The Scary Possibilities of Rising Covid Cases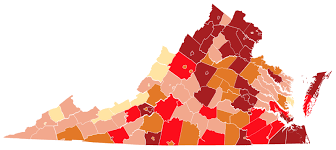 As Covid-19 rates rise and the fear of another lockdown approaches, questions regarding the return of in-person learning planned for early February might be affected. School officials now face the decision of keeping students safe at home with virtual education or balancing their needs with the return of a hybrid in-person learning option.
As new cases in Virginia have risen from 625 on October 6 to a staggering 2,600 on November 26, it becomes increasingly clear that Covid cases are on the rise. This rise could be due to recent cold weather, or the arrival of the yearly flu season, both of which provide an ideal environment for the spread of the disease. Along with these seasonal conditions, Christmas arriving means increased travel, gatherings, and more, making this a difficult time for Corona prevention. 
However, despite these raised numbers around the country and state, Charlottesville, specifically compared to other counties, has continued to show the lowest percentage of cases. Perhaps the Charlottesville community has some outright immunity to the rising rates, but the clear answer lies within community members caring for others and following the set safety protocols. This same attitude will be crucial, moving forward.
Moreover, questions have recently been raised on if this rise in cases might bring on a second lockdown period. With the first taking place last March, these pockets of outbreaks may be cause for a potential wintertime shutdown. Another lockdown period would mean small businesses would take a second deadly hit, especially with the economy faltering at the moment, so abiding by all CDC orders should stay at a priority. As Virginia Governor Ralph Northam has not yet made any moves towards another stay at home order, it seems that we can be safe for now. 
In addition, Dr.I, Charlottesville High school principal, adds that "If Covid cases rise past a number set by the CDC, there will be no other choice but to push back the February date." Now latest news from the CCS Covid advisory board is that students and their families would be able to choose between continued virtual learning or a return to in-person instruction starting in early February. In a recent virtual interview with the Coordinator of Community Affairs and Development, Beth L. Cheuk, she explained that "So far, the Board has authorized the schools to continue planning for a possible option for in-person learning. They will meet again on December 16 to check the health numbers and get an update on the schools' plans". During the wait-time between now and the next board meeting, all students and members of the Charlottesville community can follow the in place safety conditions and remember to wear a mask!