Diversity Painting Celebration
What can I do? This is what Mrs. McLaughlin, one of Charlottesville High School's art teachers, was left thinking following the events of August 12. Angry and heartbroken, McLaughlin searched for a way to do something positive with the emotions she was feeling and seemed to have found it through the after-school activity she founded: the Diversity Painting Celebration. McLaughlin says, "As an artist I have always turned toward art and the creative process to work through the way I feel. I wanted to create a project that would use art to help begin the healing process for me, my students, and C.H.S. as a whole."
As students gathered to participate, they chose the words and phrases "Tolerance," "Smile," "One Love," "C.H.S Unity," and "Hate Has No Home Here," hoping to inspire the C.H.S. community. Soon, these will be hung around the school, expanding the reach of the love this endeavor hopes to spread. Currently, the students are deciding what to paint on larger canvases and are collaborating on the design for the largest canvas: a world map that will read "Love Knows No Boundaries." But the Celebration is not limited to this. McLaughlin has some students working with the less daunting task of painting letters to encourage all students to be involved, not only those proficient in the visual arts.
Olivia Weatherford, 9, said that she thinks the paintings are important, "because positive messages are good to have around the school and be visuals for everyone to see." Manuka Tamang, a sophomore, also mentioned that this is a reminder for C.H.S. students, claiming that the event was to, "let people know that we are not meant to be haters."
Although this is exclusively a C.H.S. project, it will be one that can resonate through the entire Charlottesville community and help with healing from the tragedy. Art has become a universal language, something that everyone can understand and relate to. The events that happened August 12 affected everyone, whether they were there or not, and artists have responded, not only through the project at our school, but through chalk murals in downtown Charlottesville, or through music and performances, such as "A Concert for Charlottesville," which brought together talents nationwide in Charlottesville on September 24.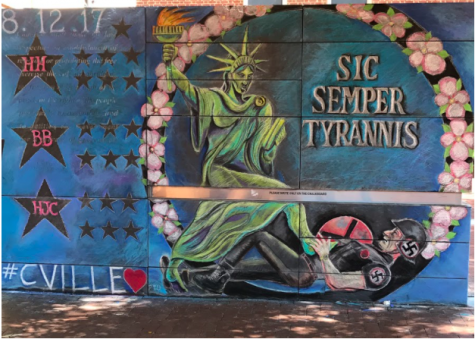 Overnight, McLaughlin received a grant specifically for the Diversity Painting along with two other grants, originating from from anonymous donors from all across the United States, to continue the celebration of diversity through art at C.H.S. One of the grants funded five large canvases for the students to create whatever images they want to as a way to remember the tragedy here in Charlottesville. McLaughlin and her students have said that their hope is that the letters spread the idea that C.H.S. is a loving, welcoming, open, tolerant community. Be on the lookout for the new additions around the school!