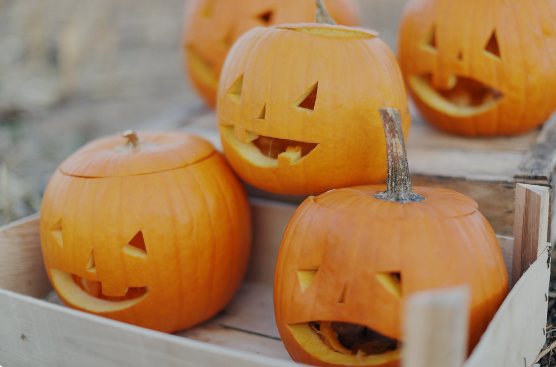 Halloween is a favorite holiday among many. From costumes, candy, carving pumpkins, and getting traumatized beyond repair, it's a highly anticipated night every year. One tradition of Halloween is carving pumpkins with different fun and terrifying faces. However, once the amazing night is over and pumpkins are slowly coming to the end of their life, they often go to the landfills. According to National Geographic, more than one billion pumpkins are grown annually and millions of them will end up in landfills yearly. There are ways to decrease the amount of pumpkins in landfills and help decrease the amount of greenhouse gasses. KTR interviewed a handful of people to see what they do with pumpkins on All Hallows Eve.
"I think first encouraging people to create a compost pile, find a neighbor with a compost pile, or maybe start a neighborhood compost pile would encourage people to use it. Once it's there, there's no real reason not to use it. If you don't carve them sometimes the squirrels will eat them, and you're feeding squirrels that way so it's cool. I either compost my pumpkins or feed them to my dogs as they like pumpkin," says Laine Carter, a senior at CHS.
"We should put up signs to encourage people to compost pumpkin remains properly. I enjoy roasting seeds, salting them, and eating them. Although pumpkin carving is fun, it is time and energy consuming so I haven't done it this year," says Linwood Bailey, a junior at CHS. 
"Just educating people on how important it is, and if people don't have personal composts, advertising the public compost systems that are already in existence. My family always cooks the seeds or composts them. I like dried pumpkin seeds so I don't have issues around it. I would say just do what we do which is compost them. I'm sure you could also try out more recipes with the things you have left after carving," says Adeline Gustafson, a freshman at CHS. 
"The easiest way is to find a neighbor with a compost bin if you don't have one.  Or find a local pig farmer like our very own math teacher Mr. Terillo – pigs love pumpkins! I'd say the easiest way is to crack them open, sprinkle them with birdseed (or not), and put them in the yard or in the woods for the wildlife to enjoy. A good old-fashioned punkin chunkin' has always sounded like a fun idea too," says Mr. Davis, the Urban Farming teacher at CHS.
 There are lots of insights and inspiration on how to reuse pumpkins after the much-enjoyed Halloween night. Hopefully loads more pumpkins can be reused in beneficial and snackable ways in the future.