Can you dig it? Homecoming is just around the corner at CHS and students are buzzing with excitement. This year's disco fever-themed dance is held on Saturday, September 30, following the homecoming football game on Friday, September 29. 
The 4-day week leading up to homecoming is jam-packed with dress-up themes and fun activities to build enthusiasm and school spirit among the student body. The CHS Student Council Association (SCA) planned a spirit week to launch the week's festivities and students are encouraged to follow the themes each day and represent their class. The final theme of spirit week is "Black Knight Nation," which encapsulates the buildup of school pride throughout the week. Similarly, the SCA holds a hallway decorating contest for each grade level every year. According to Mr. Rod, the 12th grade SCA Advisor and knower of all things tech, each class is assigned a hallway that they are expected to trick out. This year, the freshman class is assigned "music," sophomores are assigned "flower power," juniors are assigned "dance floor," and seniors are assigned "disco." Each class also has associated colors for their hallways that coordinate with their themes. SCA members and students of each grade level are welcome to help decorate their hallway on Wednesday, September 27.
Plenty of work goes on behind the scenes to prepare for the homecoming dance and the activities the week before. Mr. Rod and the SCA begin planning homecoming far in advance, starting this summer because homecoming is held earlier in the year than usual. They start by voting on/selecting the theme. Next, they discuss and purchase decorations for the dance. They are constantly bouncing ideas around to see what sticks. As the dance gets closer, they hire a DJ, a photographer, and decide how to manage food. Setup begins at noon on the day of the dance.
Although the pep rally fell through with homecoming falling earlier than usual this year, Mr. Rod and the SCA are planning on rescheduling it to another time later this fall, likely ahead of the rivalry home football game versus Albemarle. SCA raised funds to purchase a new sound system, which will be put to use during pep rallies going forward. They are also hopeful that there will be a homecoming parade next year, which didn't work out with this year's timing.
The anticipatory homecoming festivities culminate with Friday night's football game, which is a high-awaited matchup versus Goochland. The student section theme is, like Thursday's spirit week theme, Black Knight Nation. This has become a tradition for the homecoming game, as it has been the theme for the past few years.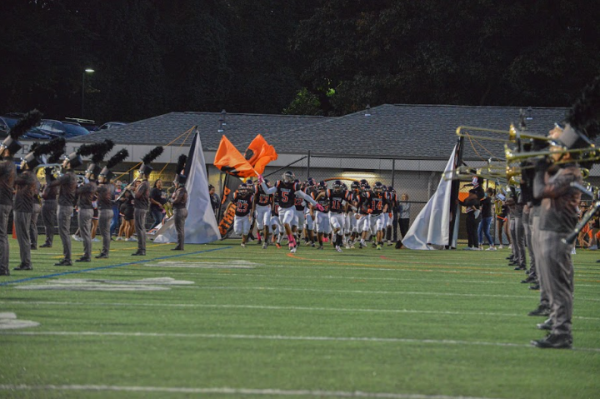 At halftime during the game, the homecoming court is presented. The homecoming court consists of 2 class-nominated representatives (or more, if votes are tied) for freshmen, sophomores, and juniors, and 4 for seniors, with one senior being crowned royalty. The court is nominated and voted on completely by students, and there are no prerequisites or expectations for who can be selected for the court. While the court walks the field with their escorts, Ms. Brown speaks about each member's extracurricular activities and involvement at CHS. Ms. Brown, who works in exceptional education and general education, is the sole coordinator of the homecoming court and has been organizing it for the past 21 years. Ms. Brown graduated from Albemarle High School in 1979 and has seen much change in her time facilitating homecoming court. She says that there was only one homecoming queen when she was a student at Albemarle, and that in the years that followed as manager of homecoming court, she advocated for the addition of a homecoming king, and, eventually, an entirely gender-neutral court to allow for inclusivity and diversity. She "refuses to break a tie" because "if everybody got the same votes, then everybody should be on there together." Logistically, Ms. Brown gets to work a few weeks ahead of homecoming. She begins planning at the beginning of the school year, ordering things like the crown and sash given to senior royalty. She communicates with SCA to coordinate pep rallies, parades, and other homecoming activities. While she almost exclusively focuses on the court and its processes, she is also involved with SCA and has to understand what their plans look like. When asked her favorite part about coordinating the court, she said "I just like working with kids I don't know, because lots of times on homecoming court, it's kids that I don't normally run into… I usually work with a small group of kids, so it's just nice to step out of the comfort zone and get to meet kids that I wouldn't normally meet." The court is also presented during the dance.
Ben Clark represents the junior class alongside Rorie Adamson and Stella Nemecek on the homecoming court. Ben plays soccer at CHS and enjoys making films. He was asked to share his thoughts regarding being a member of the court. He explained, "I'm so excited to represent my school and my people and my family." 
Freshman Jay Lane represents his class with Henry Hughes. Jay shared that he is "surprised" that he was nominated. Being a freshman, he explained that homecoming is "something to be looking forward to" and that he expects the dance to be "a good night." For many freshmen, this is the first school dance they'll attend, and it can be both exciting and daunting.
Homecoming at CHS is part of an exciting time of year and, like Jay shared, something for everyone to look forward to. There is lots of work that goes into organizing an enjoyable week for students, and the work of its planners does not go unnoticed. Homecoming is expected to be a fun experience for everyone involved. Get your groove on!