UVA Opportunties for High School Students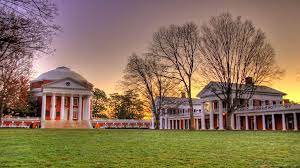 All students know that living in a college town can be very influential on our lives. We spend our time going to UVA events, hanging out with our friends on the campus, and learning about what it might be like to attend UVA as a student. Having such a highly ranked college in our backyard has provided endless opportunities for students in Charlottesville to get involved with UVA. Whether educational, hands-on, or athletic, high school students have an amazing way to learn from a college right at their fingertips. 
Zoe Norton, a junior at CHS, told KTR about her experiences with the UVA Discover Medicine program that she is a part of. Discover Medicine is run by UVA medical students, and is a way for CHS Anatomy students to get an overview of what a possible career in medicine might look like. Zoe explained that she "learned from doctors of various levels about all the parts of different body systems and how they work together." The Discover Medicine program gave Zoe, and many other CHS and MHS students the chance to dive deeper into their love of medicine. Additionally, having Discover Medicine on a resume or college application will help students with their appeal to employers and colleges because it is such an amazing educational and hands-on experience.
An anonymous CHS student explained how she had an opportunity to shadow a psychiatrist at UVA. She hopes to do something in the psychology field, and described that she is "super excited to be able to see what it would really be like working with students." This student will be working in the UVA psych ward with professionals in the field. Even though this opportunity was set up through personal connections, it goes to show just how many educational chances that UVA brings to the high school students of Charlottesville. 
Additionally, there was an engineering day with UVA for young high school students. The students had the opportunity to go to UVA and spend a day exploring their interest in engineering. There were many varying classes to choose from that all explored different areas and applications of engineering. CHS Junior Elizabeth Engel told KTR how she "loved that there were so many different ways to apply engineering to a potential career." Engineering is such an expanding field, and UVA was able to provide an engaging educational opportunity for students to explore their interest. 
There are many more chances for students to get involved in learning at UVA, and each has their own way of introducing its participants to the field they are interested in. Students in Charlottesville should explore the opportunities that UVA provides for the fields that they are passionate about.