What is the Music Resource Center?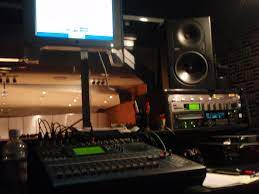 "Empowering tomorrow's community leaders through the universal language of music" is the Music Resource Center's motto. What exactly is the Music Resource Center? The Music Resource Center is an after-school program in which kids and teens can go into a very inclusive and diverse community and learn music, dance, or learn something new within the broad music industry. The many options for music at the MRC include playing the drums, dancing, singing, or even creating a beat. Anything can be accomplished at the Music Resource Center. Recently, a 12th-grade Saint Anne's Belfield Student named Eloise Granville created an entire EP Album called "Paradoxical Feelings" that is now released on Spotify. She also has many singles on Spotify as well. Some of the programs at the MRC would be dance, recording studios, lessons, rehearsal studios, and beat production. The Music Resource Center is funded by various different organizations and individual donors, including the Virginia Commission for the Arts and the National Endowment for the Arts.
The MRC also has multiple types of events that they hold on their own account. One of the most significant events that the Music Resource Center holds every year is the "Party Like a Rockstar". This event is a one-of-a-kind event in which donors and others from the community come together to celebrate with a bar, live music, and a costume contest. Every year the MRC holds a rummage sale in which they sell their lightly-used materials and products for the community to buy. Both of these events and all of the Music Resource Center's events are community-based, which clearly shows how involved the whole program is when it comes to Charlottesville.
Another way that the MRC gets involved within the community is through its membership program.o join the MRC, you must be a member, however, the membership only includes that the student must be from 6th-12th grade, go to school every day, and pay a membership fee. This membership fee is based on a sliding scale (in which the membership fee is based on the income of the family or individual) and sponsorships that allow families to pay little to nothing for their child to go to the MRC. No family pays more than $200 yearly to use any type of equipment in the MRC and join any program that they have to offer.
I reached out to the Membership and Community Coordinator, Ike Anderson, as well as the Development Manager, Katie Hanson, at the Music Resource Center.
Ike Anderson,
What is your favorite part of the MRC?
"By far, I think the best part of MRC is the people. Everyone who comes to MRC is exactly where they need to be. So many people who come from all walks of life are able to find common ground through music, dance, and snacks. Some of my best friends I have met through MRC, not to mention, are the most talented people."
What type of musical trait do you claim to have?
As far as what I do musically, I run the dance program, giving the best hip-hop in the city! I also produce Hip Hop and R&B music. I learned to do these things growing up as an MRC member myself. Now as a staff member, I'm learning drums, piano, and guitar.
What can students do to learn more about the MRC/get involved?
The best way to know more about MRC and how you can get involved is simple- PULL UP ON US! Come by and get a tour of our facility, see all that we have to offer, and how you can benefit from it. You can also follow us on social media and catch all our updates. 
Katie Hanson,
What is your favorite part of the MRC?
My favorite part of the MRC is getting to see everyone make new friends, try new things, and overcome challenges. It's just so much fun watching you guys learn things!
What type of musical trait do you claim to have?
I play bass and most brass instruments. I'm also getting better at garage band, I know 2 guitar chords, and I used to teach swing dancing (though I'm super rusty these days). Oh, and I can give a beginner drum lesson. And maybe a couple of other little things here and there that I'm forgetting
What can students do to learn more about the MRC/get involved?
Just come by! This place is hard to describe sometimes, and it's definitely hard to believe that the description is true unless you come in to see it for yourself. We're on social media, so that helps, and you can always talk to a current member or alum, but coming in and saying hi is definitely the best way to find out more about us.