Art Schedule Change Leads to Student Concern
Grace Boyles, Visuals/Graphics Manager and Staff Writer
September 19, 2022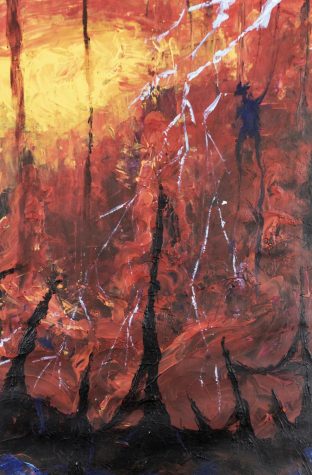 CHS has recently taken away a planned Studio Art class in favor of another Art 1 class, due to the classes being over capacitated. Students who were originally participating in the class have either been placed in a different elective, a different art class or are being forced to take Art 2 for a second year. How could this affect the students who would like to attend an art school? How does this affect the view on art as a serious subject and viable career path?
    Studio Art is a class in the CHS art curriculum that helps students learn how to make visual art at an advanced level. The class consists of lessons teaching young artists how to successfully plan and complete a cohesive piece. It is the second most advanced art class in the CHS art program before AP Art and after Art 2. In order to take the Studio Art class a student must either successfully pass Art 2, or submit a portfolio in order to skip the previous class. Studio Art is a necessary class to take in order to participate in AP Art, which teaches students how to make a cohesive portfolio. Both classes are highly recommended for anyone wanting to apply to an art school after highschool.
    In the spring, every art teacher is asked to design a schedule for how many specific art classes they require. Historically, CHS has had two or more Studio Art classes, but in the weeks leading up to the beginning of school they were informed that instead of their typical schedule, they would have an added Art 1 class and only one Studio Art class. Students who believed they were taking Studio Art checked their schedules to find that they were placed in a different elective, a different art class, or were being forced to take Art 2 for a second time. 
    Laine Carter is a current CHS junior who was unable to take the Studio Art class this year. They found out about the switch after checking their schedule less than a week before school began. Laine tried to speak with guidance about it but was told there was nothing they could do. In place of Studio Art they are taking an art based independent study, but it will not replace the class which is needed in order to take AP Art. They are planning to attend an art school after graduating and are very worried about applying to schools without having taken the Studio Art class and being unable to take the AP Art class. 
    Philip Wells is a senior that took Studio Art his junior year and is currently taking AP Art. He knows the process of having to go through Art 1 and 2 in order to take Studio Art and plans to pursue a career in art, including applying to art schools for college. Regarding his views on the class he says, "I learned so much through Studio Art. It taught me to develop my own style, and how to elevate my art to the level I always wanted to have. I couldn't imagine having that opportunity taken from me." When asked about how he feels the school views the CHS art program he says, "It feels like a joke. We're constantly overlooked and never get the promotion we deserve because there are some really talented artists at CHS, but because it is an alternative career path we don't get taken seriously."
    Every person interviewed did not feel that the art program at CHS is taken seriously. "I believe that [situation] definitely alters the integrity of the art program," says a CHS art teacher. Art has been seen and treated as a class that the majority take to fill an elective requirement, and more as a hobby rather than a viable career path. This is evident with the lack of promotion and funding. The annual Charlottesville City Schools art gallery that hosts pieces from almost every art student in the school system is typically held in the small gym at CHS, which for obvious reasons is not an ideal place to host such an event. "Compared to other programs, it's very clear which is seen as 'worthy' of adequate funding," said a CHS art student. 
    Students and teachers alike feel very disappointed by the recent removal of one of the Studio Art classes. Students feel that they are not being seen and teachers feel that elective requirements are being prioritized over students who have earned the right to take the class. Because schedules have already been sent out there is virtually nothing that can be done about this, but art students continue to  hope that CHS learns from this and begins to see visual arts as a passion rather than a hobby.