Bus Driver Shortage in Cville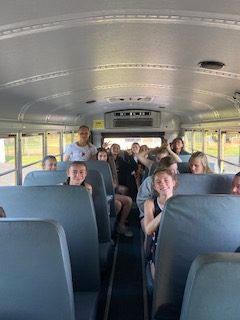 As our new school year has started there have been many new improvements, but one thing that has continued to be a major struggle for our school, and all of Charlottesville's City Schools, is the extreme bus driver shortage. 
Throughout the nine Charlottesville City Schools there are only six bus drivers. They are tasked with driving the 2,740 kindergarten through 12th graders that ride the bus to school every day. Throughout Charlottesville, efforts have been made to increase the amount of students walking to school safely, as well as driving to school. There are signs up all over Charlottesville asking people to drive slowly because of the increase in children walking to school. 
Along with these signs, the range for how far the buses will travel has changed as well. Before the major bus driver shortage, all Charlottesville students who were within 1.7 miles of the school had the option to ride the bus. Now, children within 1.5 miles of the school are the only ones with access to the bus, cutting out .2 miles of houses, and not giving them access to the buses. This cuts out an extreme amount of kids from riding the bus and greatly increases the amount of kids walking to school, and the distance children have to walk.  
Many students at CHS have been affected by the bus driver shortage as well. Current bus rider Wajiha Azizi says that, "last year we had some buses but this year I think we are having trouble in the whole city." She says that "Sometimes my dad takes us and sometimes I don't even want to come to school because I don't want to walk." Buses have been an issue for many students who ride the bus but it has also affected non-bus riders.
Sophomore Sophie Slawski states, "It is a hot topic for us at field hockey because we weren't able to get a bus to one of our away games. It was upsetting that opportunities are getting taken away from students because of a lack of bus drivers." One of the main questions people have asked is: why do bus drivers not want the job? Our principal Mr. Rashaad Pitt says it's because of, "The spread of Covid, they have to go back to their families. Buses can create the stress of driving a bus and the stress of catching Covid". 
Overall, the Charlottesville bus driver shortage has been directly affecting CHS students and staff. Many students have had opportunities taken away purely because of the shortage. As Covid-19 and other factors continue to discourage drivers from applying for the job the bus driver shortage may not end soon, as long as the community doesn't make a change. Students can continue to help out schools and bus drivers by not growing frustrated and continuing to walk to school and find other rides, so that students in need will always have a bus.