Vandalism, the Art of Public School
Vandalism. It's had a home in public schools forever, and C.H.S is no exception. A debate between admin and students that seems as if it'll never end asks if vandalism is just a mindless delinquent activity or a form of artistic expression. C.H.S has its infamous "Free Expression Wall," along the student and staff parking lots. Here, students can express their artistic abilities by spray painting anything they want onto the wall. It's a really cool way for students to showcase their talents while creating something really cool for the community to enjoy. However, graffiti at C.H.S is not limited to the Free Expression Wall. A lot of vandalism happens in the bathrooms, specifically on the stall doors. I've seen some pretty inspiring words written on these metal doors, like "you matter" with a heart. Despite these kind words, janitors work hard every week to keep our bathrooms in pristine condition. Although these phrases are written with the intent to brighten a student's day, there are other words & pictures which are a tad more vulgar. "Nice c*** bro!" is what D.J. Richardson (12) says is written on one of the boys' bathroom stalls. Drawn next to that is an inappropriate drawing that takes up the entire stall wall.
However, vandalism at Charlottesville High School goes way beyond immature pictures in the bathroom. Throughout the course of the year, bathroom stalls have been yanked from their hinges and left to lean against the wall. In another boys' bathroom, where all the soap dispensers have been yanked from the wall and taken home to be kept as devious licks, there is a urinal with a sign "p*** here" above. "On the sign, there's an arrow pointed to the side, nowhere close to the urinal!" Oliver Frost (12) added in a recent  interview, also mentioning "I don't know who wrote it, but it's really funny." Although some students find humor in the phrases, others take the joke too literally. Their actions have caused extra clean-up for our custodians, who work around the clock trying to clean graffiti the best they can. "It takes a tremendous amount of time during the school day to keep up with cleaning it. Which takes time away from regular tasks which ensure the safety of students" says athletic director Coach Rodney Redd, an administrator who has an overlook on school maintenance. "I think disciplinary action should be taken towards these students, and in some situations, students should be financially responsible for these acts" he adds. Coach Redd also told me that the school is cracking down on these mischievous acts, saying "Admin and CSA's are being more vigilant, especially during transitions they are trying to be more visible and mobile. Especially around student bathrooms."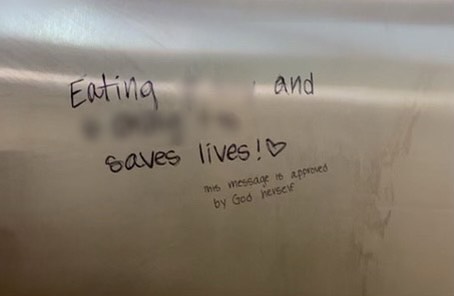 Graffiti certainly isn't limited to being just in a bathroom. Around the school, exit signs are being knocked from the ceiling. I think the most infamous graffiti in the school is located in the C100 breezeway. A giant sign which says "normalize p*** k***s" is painted in black overtop the white wall. This has been written for a while, and I think it does a really good job representing the inside of a teenage mind, but I think parents considering C.H.S for their kids would disagree. Coach Redd continued to say"Steps have been taken to try to clean it off the wall, but due to bad weather was postponed. Now that the weather is becoming nicer we are going to paint over it. I encourage students to use the 'Free Expression Wall,' (in the parking lot)." He also ended his interview encouraging students to use this wall to their advantage without the risk of getting into trouble.