Fall Sports Preview
The 2021 season for fall sports has kicked off! This is the first normal sports season we have had since the pandemic altered our schedules. Here is a rundown of the teams, new arrivals, and players to look out for: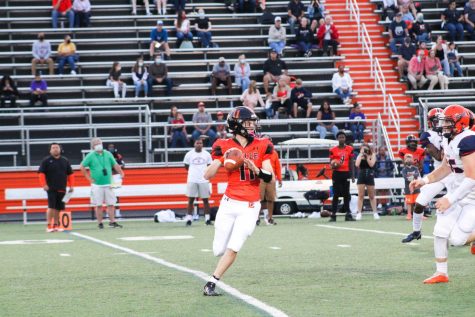 Football: 
Football started the season with a loss at Western Albemarle, but quickly bounced back and brought home a clutch win on the road in Fluvanna County against James Monroe, ending a 17 game drought. Football's captains, Jory Cardoza, Caldwell Boyles, Semaj Dennis, and Eh Nay Soe, look to pull the team together after losing key seniors Devin Shifflett, Lamont Bullard, and Quincy Edwards. Football is coached by Head Coach Eric Sherry, Assistant Coach Terrell Mulford, as well as position-specific coaches Cherebin, Collins, Atkinson, and Maddox. Football has an away game on Friday, September 24th at Louisa, and more home games to come! Make sure to pop out to a game or two to cheer on your Black Knights.
Field hockey:
Field hockey players have been trying their best this season. The JV field hockey team has started their season off pretty well, due to the great leadership from Coach Katherine Webber and good teamwork between the players. They may have lost one of their games but the team made a comeback to tie Orange because of their "great teamwork and determination," Kathryn Ackerman, a JV player, said. The varsity field hockey team started their season off strong with wins against Western Albemarle and E.C. Glass, with Coach Maddy, Coach Druzba, and Coach Blissie alongside them. Both JV and Varsity play their next game Monday, September 27th against St. Anne's Belfield. Show up and cheer on the team!
Volleyball: 
The JV and Varsity volleyball teams have been practicing extra hard this season to get us a win. The JV team has had a few games these past weeks, with Coach Garrett and Coach Marley leading them. They've had a couple tough games that resulted in losses but have stayed strong as a team. JV's hard work and determination helped them get their first win of the season vs Orange county, who they beat in two sets. JV volleyball's next home game is Tuesday, September 28th vs Albemarle. The varsity volleyball team has also been pretty active. They've had two tournaments, many games, and one scrimmage. Varsity hasn't gotten a win yet, but with their tenacity and perseverance, and the leadership of their coaches Coach Goode and Coach Duel, they'll win one soon! The varsity team's next home game is Tuesday, September 28th. You can help show your support by coming and cheering them on!
Golf:
The golf team finished off their season with a meet at Western Albemarle. They had a total of eight matches, all within the Jefferson District. Golf is coached by Mr. O'Grady and the team had six players this year: Preston Burton, Ben Ewing, Graham Morrison, Griffin Walts, Landon Rybolt, Dominique Cafferillo, and honorable mention, Quinn Ragsdale. Statistically, the team is led by Preston and Landon. Golf is generally an individual sport, hence why the team is so small, but they are always open to having more players: "Anyone can play, just reach out to Mr. O'Grady," says Junior Graham Morrison.
Cross country:
Cross country is sprinting through their fall season with two meets last week, one on Wednesday, the 15th of September and the other on Saturday, the 18th of September. Four varsity runners placed top 25 in the Ragged Mountain Cup at Panorama Farms. Be on the lookout for Senior Eli Cook and Junior Lydia Bloor who lead the team in time. Bloor stepped up and participated in the 4 by 2 relay with three other seniors. Cross country is coached by Coach A, Coach B, Coach H, Coach J, and Coach O. Cross country, being one of the more low-key sports, does not have tryouts. As Senior Lidia Shimer emphasizes, "You can run an eight minute mile or a twenty minute mile and still feel like you have a place on the team." Cross country's last meet is on October 20, location TBA.
Cheer:
Cheerleading is a fun sport that involves far more than just the team. Our cheer team performs at football and basketball games, home and away. If you've made it out to a football game this year you have probably seen the cheer team on the sideline uplifting the crown. Senior mentors, also known as captains, Jakia Maupin and Sylvie Bonharper lead the team's cheers. Cheer is being coached by Coach Brown, Coach Aja, and Coach Leah. Cheer has a competitive event coming up on October 5th. Be sure to look out for Jakia and her jumps, and participate in the cheers they lead at football games!
Gocville.org has all the teams' schedules for the year, and @blackknightnat on Instagram announces the spirits for games. Check out our website and Instagram account to stay in the loop for upcoming games. Try to come to a game and root for your Black Knights if you have the time, students are admitted for free!