Vaccinations on the Rise but School Protocol Not Changing
Vaccination distribution has exceeded most expectations, and any student 16 years and older in the state of Virginia is now eligible for the vaccine with no necessary qualifications. Some students were able to get vaccinated before this, either through their jobs or preexisting health conditions. While the reopening of school was partially contingent on most of the administration being vaccinated, the school had not anticipated students to have such access to the vaccine. But as students returned to the building and began realizing the new reality of Covid protocol, such as mandatory quarantining for exposure or symptoms, the question is, what does this mean for vaccinated students in the building? 
Covid protocol at the school requires that students who experience known exposure to Covid-19 or are experiencing any symptoms of Covid-19 must quarantine for 2 weeks before returning to in-person school. But according to a KTR survey of 45 students, 57.8% of students are either fully or partially vaccinated, and that number is expected to rapidly increase as all students over the age of 16 are now eligible. 16 of the 45 students said they have not gotten vaccinated but plan to, while only 3 said they didn't plan to get the vaccine. 
While the vaccine is not a for-sure bet against the contraction of the Covid-19 virus, it is a pretty trustworthy safeguard. Two weeks after someone's first shot of the Pfizer vaccine, which is the vaccine that anyone 12 or older is eligible for, ensures 80% protection against the virus, and 90% protection two weeks after the second shot. The vaccine mostly mitigates risk, says the CDC, which means that the main protection that the vaccine offers is against experiencing extreme symptoms. "Early data shows that the vaccines may help keep people from spreading Covid-19, but we are learning more as more people get vaccinated," said the CDC. 
That being said, it is still not guaranteed that those who are vaccinated cannot spread Covid-19 to non-vaccinated people, which may be a reason for vaccinated students having to follow the same Covid-19 protocols. Right now, CDC guidelines say that vaccinated people can be inside, not socially distanced, without masks with other vaccinated individuals or non-vaccinated individuals from one other household. Additionally, fully vaccinated people can be outside in small groups of both vaccinated and unvaccinated people unmasked. 
However, administrators are making no active plans to change the current protocol of social distancing, masking, and quarantining within the school because they have not yet received guidance from the Virginia Department of Health or the Center for Disease Control, says Ms. Bryant, Charlottesville High School's assistant principal. They currently have no plans or manners by which to keep track of students who are vaccinated and therefore do not plan to make changes to the current Covid protocol for vaccinated students. 
To some students, this is frustrating when they don't feel at risk of getting the virus but still are made to quarantine. "I think that getting fully vaccinated should mean that you get more freedom," said one C.H.S. student. Some, however, understand there still might be a risk. "If it's possible that I could still spread the virus, I am willing to take safety precautions," said another vaccinated student. 
With more and more students getting the vaccine and national health guidelines surrounding the virus rapidly changing, we may have more information soon about how vaccinated students are affected by Covid protocol at the school. However, because there has been no guidance from the government for the administration regarding vaccinated students, everyone is still in the same boat. 
About the Writer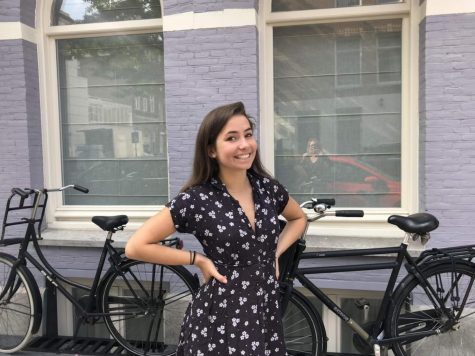 Kyri Antholis, Editor-In-Chief
"Can somebody else come up with this for me?"