Lunch with Lucas: Mediterranean Food Review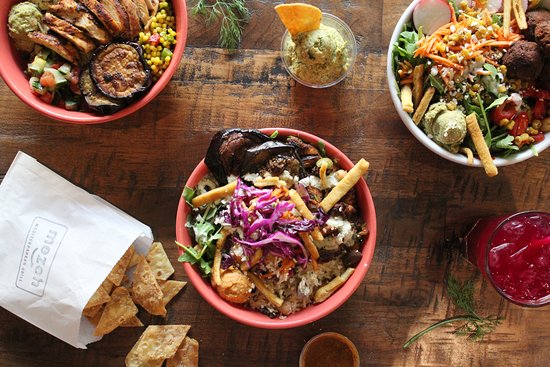 Staying healthy is important. I would consider myself an individual with a lot of passion for healthy food. Therefore, this week I am going to review some of Charlottesville's heartier restaurants. I went to CAVA, Roots, and Mezeh. CAVA and Mezeh both serve Mediterranean cuisine and Roots is just casual bowls.  
I have been to Roots many times, and I would say it's probably one of my favorite locations in the 'Ville. I usually order "The Jefe" which is comprised of brown rice, kale, black beans, charred corn, red onions, avocado, pita chips, and feta. It is then followed by a cilantro lime dressing. It also has some grilled chicken in there for a good source of protein. I really like this meal and it's probably one of my favorites. I appreciate the location of the restaurant because the Corner is one of the more popular areas near the University campus and I spend a lot of time near that area. It is also right next to Got Dumplings, so I usually can grab a quick boba tea as my beverage of choice. 
CAVA is a Mediterranean bowl place and it's kind of near Cookout on Route 29. I really love the interior of the restaurant and the outdoor sitting area. The waiting line is very brief. Once you get to the front of the line, you are asked what you want to order. I ordered a bowl with white rice, regular chicken, two scoops hummus, cucumber, feta, some dressing with lemon, and lemon tahini. I really enjoyed it and found that the extra hummus made it taste super good. I complimented the entire meal with a nice water cup (no straw for the turtles) and then I went on my way. 
Mezeh is in Stonefield and they specialize in Mediterranean cuisine. I actually don't remember what I ordered but it was similar to my order from CAVA. I really enjoyed this meal with the pita bread and I made a cool make-shift sandwich that was fun to eat. I also like that this place is in Stonefield because I think that Stonefield outdoor seating in warm weather is one of my favorite areas to eat at. Good place for a cute date.  
Although these meals weren't exactly making my mouth water, I know it's important to eat healthily and these are some good places to do that.