TheatreCHS Puts on a Thought-Provoking Virtual Performance of R&J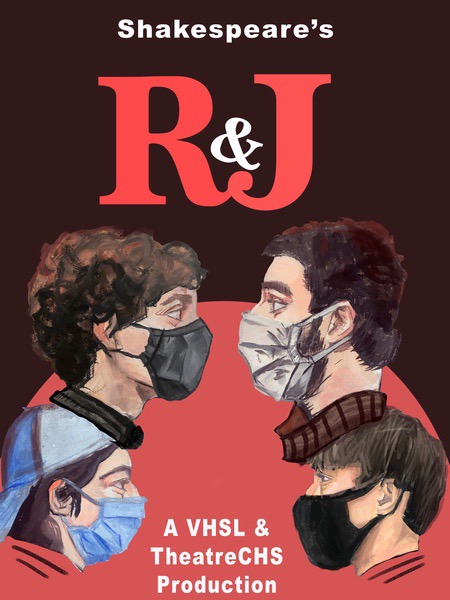 While the magic of the Black Box or the anticipation of a live performance in the MLK Performing Arts Center can't be replicated, TheatreCHS managed to put on a thought-provoking, emotional, and overall successful virtual production of R&J, a twist on the Shakespeare classic.
Students and community members were invited to register to watch the performance through YouTube livestream on Saturday, January 30th. The cast and crew of the play, which was small compared to the regular size of a CHS production, were introduced by Mr. Becker, theater teacher and director, and Allison Dugger, the stage manager. The performance was a rewarding 50 minutes, roughly, in which the four actors, Cole Lyman, Ben Brantley, Vann Slangerup, and Jacob Engle, assumed roles as both multiple characters from Shakespeare's "Romeo and Juliet" as well as Catholic schoolboys struggling with their own personal dynamics. 
This adaptation of Romeo and Juliet is meant to be a play within a play, in which the Catholic schoolboys (only given the stage names of Student 1, Student 2, etc.) perform the classic play in their dormitory between classes. But through this performance, they're forced to confront their own motivations and emotions. While this subplot is given no formal introduction, the actors convey it solely through their expressions and intentions. 
"I fell in love with it as the way that it works as a play literally about acting. It gives me chills just thinking about that," Mr. Becker, our beloved theater teacher, said of when he saw the play put on by a neighboring school a few years ago. "I love the piece not just because of what it's saying about social constructs and oppressive societies and LGBTQ stuff, but it's also a wonderful piece about the imagination and how important it is for us, especially during Covid when we feel like we've lost the ability to create."
Viewing the show is a unique experience because, while following the familiar plot of Romeo and Juliet, the audience is also trying to discern these dynamics between the schoolboys. The actors rarely have their own dialogue outside of the original Romeo and Juliet script, mainly showing their emotions through movements and tones. The play was originally written with a lot more physicality between the boys but that had to be limited due to Covid restrictions. "It was really interesting with the scenes that were supposed to be more intimate. It's a lot more independent physicality from each other," said Cole Lyman, one of the actors. "The subtlety of it is more powerful," Mr. Becker added. 
The crew intended to use lighting to highlight dynamics that couldn't be expressed through touch, but since the show was done during the afternoon, these effects couldn't be seen. However, the play was excellently blocked and the actors gracefully conveyed themselves despite physical limitations and difficulty discerning expressions behind masks. 
Putting on this play presented an interesting challenge for the actors when portraying multiple characters at once, some overtly and some very delicately. The central aspect of the play is the idea that the boys will have their own motivations when acting, not just the motivations of their Shakesperian character. "The dynamic switches depending on if you're talking in character or talking to another one of your peers… Are you saying that you love me in the show or are you saying that you love me in real life?" Cole described. "That line being blurred is kind of a theme that is explored throughout the show." 
Alison Dugger, the show's stage manager, gave insight into how the actors worked with figuring out these roles. "At the beginning of rehearsals, you could tell the boys were struggling with how to separate their two characters but also mesh them together," she said. "A lot of the things they do within Romeo and Juliet have motives from their student characters, so I think Mr. Becker did a good job of making them ask 'why are you doing this from your characters' standpoint but also your students' standpoints?'"
With limited scene changes, crew members, and space, the group also had to work with minimal props. They pulled this off remarkably by incorporating their few props in multiple different ways. Their most important prop was a large red fabric that served as a shawl, poison, blood, and even a tug-of-war rope to replace sword fighting. The fabric was written into the original script which proved itself convenient for the production. "There's a lot of suspension of disbelief, a lot of imagination that goes into it," Ben Brantley explained. "We used the silk to overcome a lot of the limitations that come with having to be physically distanced but it wound up making some of the elements of the plot clearer."
Another appealing aspect of the play, and a reason why it was chosen in the first place, was the size of the cast. There were only four actors and about eight crew members including teachers Mr. Durrer, who helped with tech, and Mr. Becker, who helped direct and produce. This is unusual for CHS theater productions that usually have a large crew. "It's not just about social distancing with me," said Mr. Becker. "As a department, we also need to explain that we can't be huge if we're going to do a production, which I generally don't want." 
But Mr. Becker also emphasized that anyone who's interested can be involved in the production, although they may not always contribute physically in person. "It's a pandemic. Anybody who wants to be involved will be," he said. "I think that's something I think we really need to stand by as we're moving forward with how to deal with equity." 
"I think what made the show work from a tech aspect was that everyone on the crew wanted to be there. They showed interest before they were even on crew," said Alison. As for the time commitment and how they made rehearsing work, the production had virtual rehearsals once a week to learn the script and develop their characters, and then began in-person rehearsals (completely masked) to work on blocking and tech. 
The show made itself accessible to people virtually by providing registration to anyone with a connection to the school system. Once registered, attendees were given a link to view the performance on YouTube Live. While the production had not done a test-live stream before and experienced some audio and lighting difficulties, as comes with the unpredictability of technology, the show was still able to encapsulate the thrill of watching a live performance. "I think a little more planning ahead could help us in the future," Alison said. "We were so focused on getting the play the best that it could be so I guess the livestream and audio came after that… but I think we did pretty good for it being our first time as a theater program doing something like this." 
Because theater is technically a Virginia High School League sport, the irregular seasons qualify them to be active and in-person through April. With the success of this performance, they hope to continue to be able to put on live productions that can be streamed by students. They're beginning auditions for Shrek the Musical, which will have a similar but slightly more multimedia look than this performance, as well as the spring performance of Ragtime. They also hope to put on smaller productions that students can get involved in, such as weekly improv. TheaterCHS is continuing to bring the performing arts to Charlottesville students during a time when we need the power of expression the most. 
About the Writer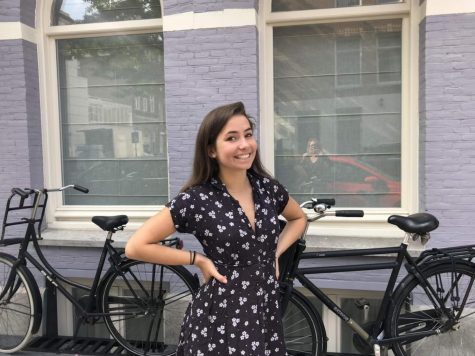 Kyri Antholis, Editor-In-Chief
"Can somebody else come up with this for me?"