Inez & Deshawna Review: Our Favorite Asian Cuisines in Town
Inez & Deshawna review: Some of our favorite Asian cuisines in town
When it comes to Charlottesville, there are countless options when considering ordering Asian food. The POC owned, specifically Asian, restaurants in town have flourished significantly in the past few years. We picked up several dishes from three different Asian style restaurants and reviewed them based on quality of food, overall taste, final composition of the dish (this was hard because everything was in a to-go box), and price.
Before we probed around the wonders of Asian cuisine, we asked some peers about their thoughts on different types of restaurants and their food. Junior Audrey Ragsdale remarks "Marco and Luca's has to be my favorite restaurant in town but I love all Asian food. It really depends on the mood I'm in." I have to agree with the comment about loving all types of Asian food. Although Audrey's favorite restaurant is Chinese, her favorite food is pad see ew, a Thai dish. Greg Goering, father of Inez, likes to get Vietnamese when traveling, but chooses takeout from Silk Thai when in town.
We got curbside pickup from three different restaurants: Chimm Street, Poke Bowl, and Got Dumplings. Here is how it went:
Chimm St.
Chimm LLC is a local Southeast Asian two-restaurant chain with the main locality at Fifth Street Station and a smaller outlet at Dairy Market. Chimm Street is one of many grab-and-go style eateries in The Dairy Market on Grady Avenue. The menu has several categories: Street Eats, Thai Eats, Vietnamese Eats, Sweets, and Drinks.
We ordered three dishes: chicken basil stir fry, pork and crab dumplings, and Thai chicken wings, all pictured below. We also got their Thai tea boba. This is what we concluded:
The pork and crab dumplings were perfectly cooked and garnished with cilantro, scallion, and fried garlic and served with a house dumpling sauce. They are quite filling and the overall taste is immaculate. Judging by the price and size of the dumplings, I would say this dish could be a meal by itself. ($6.50)
At first I was skeptical about ordering wings from a Thai restaurant, but let me just say they did not disappoint. The wings were cooked all the way to the bone and marinated in a salt and vinegar brine. They were topped with cilantro and scallions with a house dipping sauce on the side. ($4.50)
The chicken basil stir fry was the most filling out of all the dishes. It came with a side of rice and an egg to go along with the ground chicken and blanched (briefly boiled) veggies. Make sure you have a glass of water ready because the spice level in this dish is through the roof. ($7.50)
Poke Bowl
Poke Sushi Bowl has Hawaiian inspired poke bowls, which are basically deconstructed sushi rolls. The bowls at Poke are high in protein and Omega 3 and made completely with natural ingredients. We ordered the Classic Tuna Bowl.
The Classic Tuna Bowl is gluten free and came with Ahi tuna, sweet onion, green onion, hijiki, edamame, sesame seeds, and the classic shoyu sauce. All of the bowls are endlessly customizable, so you can make accommodations for your order based on your preferences.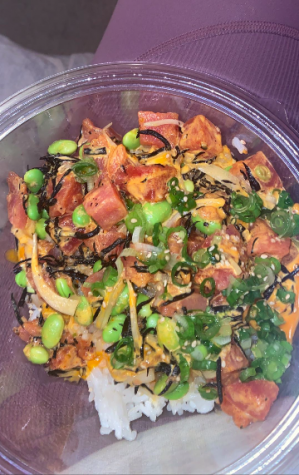 Overall, the Tuna Bowl had a great taste with a mix of sweet and spicy and the composition of the dish was beautiful with many colors. The bowl contained lots of food, which justifies the high price. ($12.25)
Got Dumplings
Got Dumplings is a local restaurant that started here at the campus of the University of  Virginia back in 2011. Two sisters, Phung Huynh and Kynnie Wong, decided to captivate their mother's traditional Vietnam style dumplings, and make them even more delicious. Their use of fresh ingredients and strategic preparation ensure their customers get their money's worth, along with a fulfilling and pleasing meal. I ordered the Pork Dumplings with a choice of one side; I chose edamame.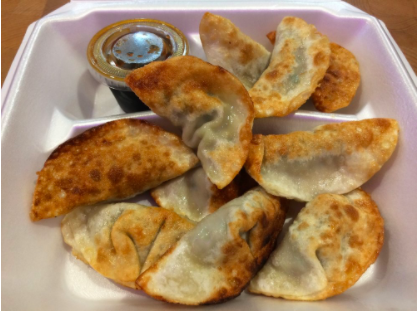 While these may just look like any regular dumplings, they actually stood out quite a bit.   It was the perfect example of crispy on the outside, soft in the inside. The outside was fried to perfection, which complemented the soft inside filled with pork and fresh vegetables. Their homemade sauce which was a bit tangly completed the meal. ($7.50, including edamame.)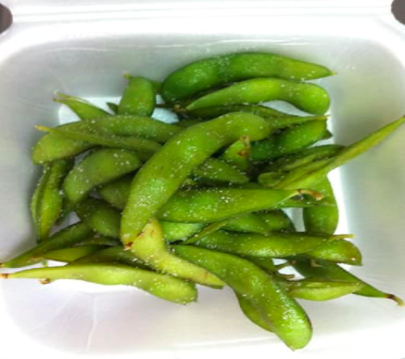 The edamame had a perfect firm texture, which made every bite more enjoyable. With the perfect balance of salt, butter, and a tad bit of sweetness it definitely was a nice treat to my taste buds. I almost enjoyed them more than the dumplings.
Overall this local dumpling shop was worth the visit! The portion sizes were great, and the price was definitely reasonable. The different flavors really stood out, and maybe everything ten times better. I would love to go and try some of the other menu items.