Unmasking the Endeavors of POC-Owned Businesses in Charlottesville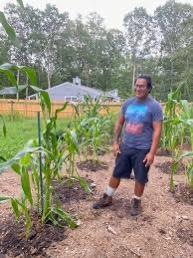 Many small-town businesses are struggling these days, especially the businesses run by People of Color (POC) that go unrecognized. Some of these businesses are famous to the Charlottesville community, but it remains unknown that many of them are owned by POC.
I recently found out that two of my favorite eating establishments in town, Boylan Heights and MarieBette are POC-owned. A few other eateries that are worth checking out are Brown's, Mel's Cafe, Pearl Island, and Marco and Luca's.
Business manager for the Knight-Time Review, Tomas Russo, spent an hour talking to the owner of Pachamama Peru, a local food truck owned and operated by Julio Quispe. In an interview, Tomas shared Julio's story with me. Quispe's family immigrated from Peru to Long Island, New York when he was 7 years old. Shortly after they settled into their new environment, Quispe's little brother died from an E. Coli infection from his food. Julio moved to Charlottesville when he grew older and worked on a farm for a few years. He said he wanted to provide clean, healthy food for minorities who didn't already have access. Ever since the death of his brother, Julio has been inspired to start a food business with vigorous safety precautions. He recently started his own business in a food truck and all of his food products are home-grown on his own farm. Now more than ever, he is cautious about food safety. Quispe says business is harder due to Covid-19, and he wishes people shopped more locally.
I also interviewed CHS junior Nico Sun about his family business in town that has had great success from the beginning. Sun Da, Nico's dad, is from China, and his mom, Dragana Katalina-Sun, from Bosnia. They met in Germany and immigrated to the U.S. together in 1998. The couple started up their own restaurant, "Marco and Luca's" in 2001 with just $300 in pocket. It began as a small window restaurant downtown until they eventually made enough revenue to switch to a more public location with indoor and outdoor seating. In the interview, Nico mentioned the impact Covid took on the business, "In the beginning when we were on total lockdown, business was super slow. But it started picking up again around May and June." He also said that people have been extra generous with tips recently, acknowledging the hindering pandemic. Marco and Luca's started out as a completely family-run business, but has begun to hire some non-family members too.
It is hard for POC and immigrants to start up their own businesses nowadays. It's extremely difficult to compete with all of the businesses that are already established, especially big corporate chains. Immigrants generally don't have many ties to their new community, and it is particularly hard for them to obtain corporate investments or loans to really kick things off.
We should all support these businesses because it can be hard to maintain a steady flow of customers during these strange times. Most people just order from chains, but it would make a big difference to these restaurants if C'villians decided to eat local.