The Biggest Time-Waster: TikTok
TikTok is undoubtedly the most used and most addictive app that has been released in the App Store. I can confidently say that most students have one thing in common: TikTok has taken over our lives. TikTok and other time-consuming apps are a gateway for procrastination, and have held back students from their priorities. My friends and I talk about how much time we waste on TikTok and how we can't get anything done when free entertainment is sitting right beside us.
TikTok has about 800 million active users worldwide and about 2 billion downloads, which is an enormous increase since its launch in 2016. The app has hit the nail on the head when engaging with our generation; a little less than half of users are between ages 16 and 24. And the influx of youngsters on TikTok comes from 155 different countries worldwide, being available in 76 different languages.
I asked some CHS students some questions about their relationship with TikTok and other apps. 100% of respondents said they have or have had TikTok at one point. I asked the students to check how much time they spend on TikTok every day, and the student with the highest screen time said they spend four and a half hours, while the student with the lowest screen time said they spend thirty minutes each day, only because their parents implemented a restriction on their phone. Most respondents averaged an hour and a half. Every single student said that using TikTok gets in the way of completing their schoolwork. Whether it's never starting work or taking a "quick break" to scroll.
One student responded to the survey and said, "I spend awhile on it(TikTok). It's super addicting and I 'treat myself' to it after I do a little bit of work."
What is mind-boggling to most is how TikTok grew such a big audience in a short span of time. The app is used by the general public, and also enjoyed by celebrities such as Jason Derulo and David Dobrik. Some could say that the hierarchical element of TikTok draws people in when trying to gain fame. Some popular creators started out as a normal teenager like the rest of us, and grew to have a multi-million fanbase. People like the D'amelio's, Cynthia Parker, and Vinnie Hacker proved that anyone can gain fame in just a year.
TikTok has many addictive aspects that keeps viewers hooked. The basic features that users like are the trends, influencers, and repetitive sounds. Trends are fun because everyone can try them out and share them for others to see, and observe how each person has their own take on the trend. Influencers are usually what makes trends so popular. Viewers love to see what the people with the most followers post, who they follow, and whatnot. The repetitive sounds easily get stuck in people's heads, which creates an addictive relationship with the app.
One reason it's especially hard to get off TikTok is because the videos are so short, and finding new content is as easy as the flick of a finger. Junior Elizabeth Burns says "It's not like a TV show or a movie that carries the same plot, if you don't like a certain video you just swipe and watch a new one." Every time you see a video you like it releases dopamine and drives you to watch another.
Our generation was targeted with the launch of this app. We must find solutions to balance our time doing school work and using our cell phones. Some think part of the reason for there being an unprecedented amount of F's in Powerschool this year is because teachers can't tell kids to put their phones away during class, or at least can't enforce the rule. It's on the students to find self control and the incentive to finish the school year well.
Donate to The Knight-Time Review
Donate to support the budding student journalists of Charlottesville High School! Your contribution will allow us to provide unique content to members of our school community such as print issues, special segments of our news program, and fun events; as well as keeping this useful site up and running. Anything helps!
About the Contributor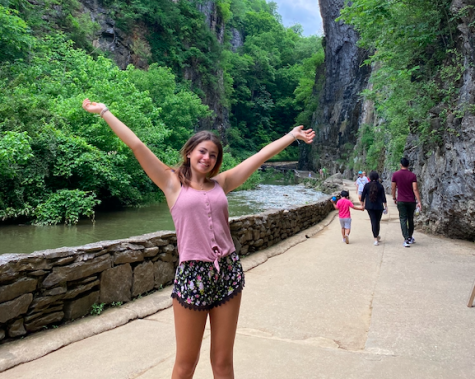 Inez Goering, Sports Editor, Staff Writer
It's only news the first time you hear it... let me break it to you.