Biden, Warner, and Webb Thrive in Charlottesville and Albemarle County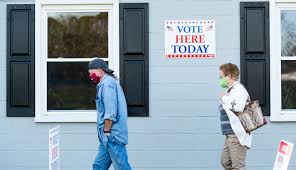 The presidential election of 2020 would be considered a success for a majority of Charlottesville and Albemarle County voters. Joe Biden, the Presidential candidate and nominee for the Democratic Party, defeated the incumbent, Donald Trump, in not only the national vote and the Virginia vote, but Albemarle County and the City of Charlottesville as well. With Biden-Harris signs flooding front yards, Charlottesville residents came through as the Democratic stronghold of Central Virginia. 
Voters in Charlottesville were able to cast their ballots at a plethora of different locations including Tonsler Park, Herman Key Rec Center, Carver Rec Center, Clark Elementary, Walker Upper Elementary, Johnson Elementary, Buford Middle School, Venable Elementary, and Alumni Hall. 
Albemarle County had a total of 30 voting precincts located on all sides of the county surrounding Charlottesville. Their polling places included recreation centers, schools, and churches. Each of the six voting districts had at least three polling sites available to them. 
Joe Biden won a bulk of Charlottesville citizen's votes in the 2020 Presidential Election. The Democratic nominee took away 85.50% of the vote in the city of Charlottesville, according to Virginia's Department of Elections. This percentage is almost exactly 20% more than Albemarle County, where Biden got 65.68% percent of the vote. 
Going to the Legislative Branch of the government, and in particular the Senate, incumbent Mark Warner easily defended his Senate seat against the Republican challenger, Daniel Gade. Warner won with 55.99% of the vote, compared to Gade's 43.91%. The vote gap was over 500,000 votes. 
Getting even more local within the Legislative Branch, Republican Bob Good defeated Democrat Cameron Webb for Virginia's 5th Congressional District seat in the House of Representatives. This district, running from Fauquier County down to the North Carolina border, has been a recent Republican stronghold with six straight Republican winners, starting in 2010. Good first defeated the incumbent, Denver Riggleman, in the Republican primaries and then defeated Dr. Webb in the general election by about 20,000 votes and a percentage of 52.44% compared to Webb's 47.3%. 
Although he lost the district as a whole, Dr. Cameron Webb easily took away Albemarle County and the city of Charlottesville. Webb won Albemarle County with a percentage of 68.22% and won Charlottesville with a percentage of 86.98%.
Kyri Antholis, who is one of my classmates and the newspaper's Editor-in-chief, was volunteered in Dr. Webb's campaign. She was able to help in areas like phone banking, which was relied on much more heavily due to COVID-19 and not being able to do as much in-person campaigning. Although, she did say that the campaign tried to safely engage with citizens in-person somewhat to interact with them better and allow them to get a better understanding of the candidate. Dr. Webb's campaign ended up raising over 3 million more dollars than Bob Good's campaign, but Webb couldn't acquire enough of the rural Republican areas above and below Albemarle County to secure the win. Virginia's 5th Congressional District is hard to compete in for Democrats due to these rural areas that overwhelm the Democrat-controlled cities within the district. You can read more about this race and the 5th District in "Are Our Representatives Representing?"
Concerning actual voter turnout, the city of Charlottesville decreased, while Albemarle County increased. Charlottesville went from 77% in the 2016 presidential election to 72.6%, so far, in 2020. The county increased from 81% to 82.3%. Charlottesville's decreasing trend opposes the increasing trend nationally in voter turnout. The expected voter turnout nationally is supposed to reach 67%. So basically, every 2 out of 3 people voted this year. The presidential election in 2016 had voter turnout reach about 59.2%. That 2016 percentage is the highest it had been in 48 years (1968 Election). With the 2020 voter turnout beating 2016s by about 8 percent, it has reached a high that hasn't been touched in over 100 years (1900 Election). 
With the US population constantly increasing, there is an upward trend in actual votes every year as well. But with the abnormally high voter turnout this year, a substantially greater total vote count came along with it. The United States' amount of votes are projected to increase from 2016 by about 20,000-25,000 votes. For comparison, the difference from 2012 to 2016 was only about 7,000 votes. So far, over 153 million have voted in this election, which is the most ever. Not only did Joe Biden receive the most votes ever for a presidential candidate, the incumbent, Trump, now has the 2nd most votes ever behind Biden. It was a truly historic and monumental election in regards to voter turnout. 
Early voting was a huge success this year in the city of Charlottesville. More than half (53%) of registered voters in Charlottesville voted early. This means that above 70% of people that voted in the 2020 Election in Charlottesville voted early. Nationally, you can see trends where Biden-Harris supporters were much more likely to vote early or vote by mail. Trump supporters were more likely to vote in-person on Election Day. This has led to national confusion, led by our president, who is currently spreading false claims about the validity of the election. Donald Trump and his fellow Republican comrades have been fighting battles in court for the past few weeks arguing that Democrats cheated the election. This mindset from Trump and his supporters could have easily come from how the election played out after Election Day. After the first night and throughout the next day, Trump was leading in most of the battleground states that were going to be key for his re-election. After more legally-casted mail-in ballots were received, Trump's lead grew smaller and smaller until Biden eventually overtook the lead in these key states that Trump needed in order to win. With this being the main cause of Trump's tirade, he has been active on Twitter every day since the election trying to persuade people with false and misleading information. 
Jake Bowling, a class of 2020 graduate from CHS, talked with me about his voting experience and his personal feeling on how voter turnout went for people in his age group. Jake stated, "I think voter turnout for my age was very high. Almost everyone I know in my grade voted in some way or another, which is extremely important." Jake, who currently goes to JMU, also said that his first experience with voting was good and that the crowds he saw at the polling places were a sign of encouragement. Jake concluded, "It's super encouraging to know that our generation is ready to take the next step in society." 
Though the nation is very divided right now, I think something a lot of people can agree on is that an increase in voter turnout is always a positive, no matter what side of the aisle the vote is cast towards. Sometimes, arguing and bickering isn't the worst thing in the world. Like Frederick Douglass once said, "If there is no struggle, there is no success."