VHSL Discrepancy Potentially Ruins Lacrosse Season
High school lacrosse in Virginia isn't quite on the same level as its northern state counterparts, and unfortunately can sometimes get treated as an afterthought. This was made evident when in the VHSL return to play guidelines, boys lacrosse received the most drastic game-changes out of any sport. According to the National Federation of High Schools, boys lacrosse along with wrestling, football, are deemed "High Risk" sports for transmitting Covid. As part of Governor Northam's plan to reduce the spread, high school sports are receiving altercations. For example, baseball pitchers can't lick their fingers then touch the ball. 
The problem occurs when lacrosse receives game-breaking changes that make the sport unrecognizable, while other high-risk spots did not. Proposed changes for lacrosse include having body checks and faceoffs completely removed. Without these two elements of the game, it becomes something completely different than the medicine game the Native American ancestors created. For those unfamiliar with the sport, a faceoff is where one player from each team crouch down and fight for ball possession, typically lasting less than 5 seconds. The only form of physical contact is the player's sticks.
However, during wrestling, there is constant breathing on each other as opponents wrap around each other for minutes at a time. Football literally has contact every single play, plus the occasional goal line pile-ups with 20 people on top of each other. You would think that in order to reduce Covid transmission as much as possible, those two sports would surely be the first to have changes made. But neither of those two sports saw any changes to reduce physical contact. Whereas the sport of lacrosse that involves the least amount of contact receives the harshest rule changes by far. 
Another display of the blatant discrepancy from the participation guidelines is that Virginia has been hosting lacrosse tournaments all summer, and has not been deemed the source of any major Covid outbreaks. These tournaments have all the normal lacrosse rules and did not require temperature taking or Covid testing. Other states are allowing high school lacrosse to commence, along with Virginia colleges, and Virginia private schools. It seems Virginia public high school lacrosse is the only outlier, determining whether or not current seniors the worst season of lacrosse in their life, most of which will be their last.
Samuel Ewing, a senior, gives his thoughts: "I would rather not have my final season of lacrosse completely ruined, last year we didn't even play a single game. I hope VHSL makes the right decision and makes lacrosse normal just like most other sports." There is some promising news; during an interview VHSL executive director Billy Haun said they are having some second thoughts about boys lacrosse: "That's the one sport that we really do absolutely need to go back and revisit." Although this sounds good to hear, nothing is final yet and the current rule proposition remains. As a response to fight back against the new guidelines, a petition has been created, viewable here. It has 1,600 signatures right now, going for 2,500. I encourage everyone reading this to take the 5 seconds and help save our lacrosse season.
About the Contributor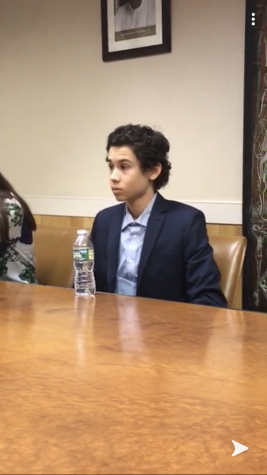 Tomas Russo, Senior Business Manager