Are Our Representatives Representing?
This past Election Day, Virginia voters chose to pass an amendment that will create a bipartisan commission to reconsider the legislative districts in Virginia that have been heavily gerrymandered — the practice of manipulating political boundaries to favor certain parties. Virginia's Congressional 5th District, which includes Charlottesville, is no exception to this. Some argue the current districting may be the reason why Democrat Cameron Webb, a doctor, lawyer, and UVA alum, lost in this past Congressional election to Republican Bob Good by 6% of votes despite his impressive campaign.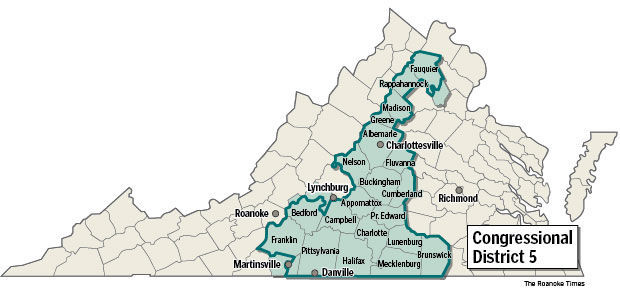 Since the 18th century, dating back to James Madison's presidency, gerrymandering has been used all across the country, by both political parties, to protect the incumbent representative. Legislative districts are redrawn every ten years, but usually done by the party in power, so that, using census data and recent votes, it can be determined what composition of voters within a district will create the best outcomes for that party. In recent years, multiple states have begun taking up the practice of creating bipartisan groups to redraw district lines in ways that will be more equitable and will represent voters more accurately. "Take a look at Charlottesville, where about 80% of voters cast their ballot for Dr. Webb but are going to be represented by Bob Good," said Evelyn McKenney, C.H.S. Class of 2019, who was a leading figure in the field on Webb's campaign. 
Virginia is one of the most gerrymandered states in the country, and the district which Black Knight Nation is a part of is especially affected. The 5th Legislative District, which includes Albemarle county, extends all the way from Fauquier County in Northern Virginia to Danville, which sits near the Virginia-North Carolina border, creating a district about the size of the state of New Jersey. Within this district is the city of Charlottesville, an overwhelmingly liberal area, but also includes many Conservative-leaning counties such as Bedford County. The last Democrat to represent the 5th District was Tom Perriello, who was elected in 2008. This past race was highly contested all the way up until Election Night. 
Bob Good defeated Republican incumbent Denver Riggleman in the primaries of this race to face Cameron Webb in the general election. Bob Good graduated from Liberty University in Virginia and worked for CitiFinancial for 15 years before becoming the Senior Associate Atheltic Director at Liberty where he succeeded in fundraising huge amounts of money for the school. Good's platform was centered around goals of protecting the 2nd Amendment, creating strict immigration and abortion policies, supporting law and order, and reviving the local economy. In Good's concluding remarks at a virtual town hall debate between him and Webb, he stated "Like you, I love America and everything that it stands for… I love what makes our country unique and exceptional among the nations of the world, and I'm going to preserve those things."
After having received his law and medical degree from U.Va., Dr. Cameron Webb was appointed by 44th President Barack Obama for the White House Fellowship in 2016. Within the Obama administration, he served on the White House Health Care Team, helping to implement the Affordable Care Act. His fellowship ended during the Trump administration, and his experience within both administrations proved itself an advantage towards his campaign. Webb continued to work as a teacher and Director at U.Va. as well as a doctor during his campaign, treating COVID patients at night while campaigning during the day. Webb's platform prioritized his policies on affordable health care for everyone, especially during this pandemic, and helping the local economy recover, specifically by uplifting small businesses through broadband infrastructure such as internet. 
Dr. Cameron Webb is self-described as a "consensus builder," using his background in the medical field as well as having worked under both the Trump and Obama administrations to create a campaign centered around crossing the political divide and working to recover, as a state and a country, from the pandemic. Webb stated during the town hall, "I'm going to do in government what I do as a doctor. I walk into a room and I ask where it hurts and we work together to solve it. And sometimes that's going to look a little more blue and a little more red." "You want to be able to vote for both a person and their policies, as opposed to just their party," said McKenney while reflecting on Webb's strengths during this campaign. "I think Dr. Webb did a really great job at focusing on the issues and the people instead of partisan politics." 
"

Should the Constitution of Virginia be amended to establish a redistricting commission, consisting of eight members of the General Assembly and eight citizens of the Commonwealth, that is responsible for drawing the congressional and state legislative districts that will be subsequently voted on, but not changed by, the General Assembly and enacted without the Governor's involvement and to give the responsibility of drawing districts to the Supreme Court of Virginia if the redistricting commission fails to draw districts or the General Assembly fails to enact districts by certain deadlines?

— Constitutional Amendment #1
In a historically red district, the race was declared a toss-up only months before the election. This was in large part a result of the Webb campaign's fundraising efforts, which raised almost four times the amount of money as the Good campaign as of mid-October. But despite Webb's attempts, and some success, to reach across the aisle and appeal to right-leaning voters, Good won the race by less than 21,000 votes. While areas such as Charlottesville City, Albemarle County, and Danville had majority votes for Webb, other counties voted red to elect Good for the district. 
However, by the next Congressional race, the districts might look entirely different. 65% of voters voted for Constitutional Amendment #1 on the ballot this year, which will change the practice of drawing legislative districts by establishing a bipartisan commission. The commission will be made up of 16 members, half of whom are legislators and half of whom are citizens. While it's yet to be determined how they will be selected, it is a strong principle of the amendment that the commissioners will represent a wide spectrum of political views. 
The aim of the new amendment and the bipartisan committee does not yet have clear intent as to what the map may look like when it will be created around next summer, says Leigh Middleditch, one of the founders of OneVirginia2021, an organization which worked towards getting the amendment passed. The commission's aim is to simply create a new map that is approved by a fair majority of the commission to end the practice of partisan gerrymandering. "Once the new U.S. census data is received in 2021, the commission will redraw the Virginia congressional legislative districts," Middleditch summarized. "At least six of the eight legislators and six of the eight citizens have to approve this new map."
This new amendment doesn't change the outcome of this year's Congressional election, and the future of Virginia's legislative districts is yet to be determined. But citizens may be able to hope that their state representatives might, in fact, be more representative of their personal beliefs and priorities come next election. 
Donate to The Knight-Time Review
Donate to support the budding student journalists of Charlottesville High School! Your contribution will allow us to provide unique content to members of our school community such as print issues, special segments of our news program, and fun events; as well as keeping this useful site up and running. Anything helps!
About the Contributor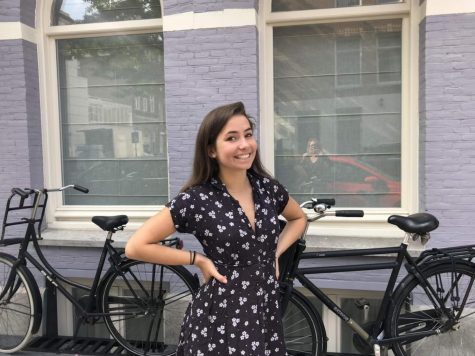 Kyri Antholis, Editor-In-Chief
"Can somebody else come up with this for me?"