Teacher Feature: Robert Deane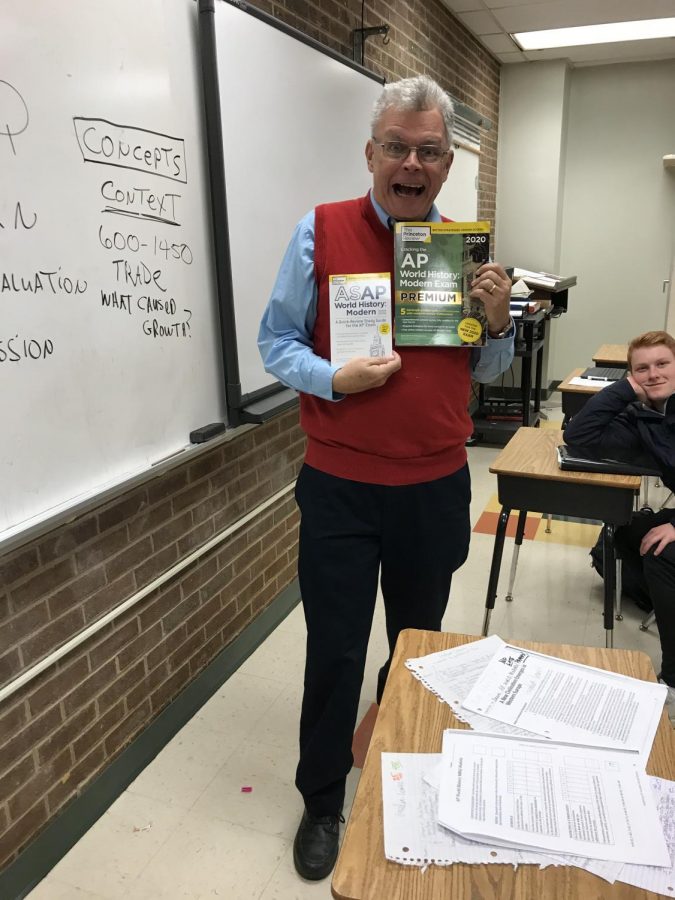 Robert Deane has been at Charlottesville High School longer than quite possibly anyone else in the building. He is well-known by most of the student body in the school as the fabled history teacher, made prominent by the surprising length of his time teaching here at C.H.S., his teaching style, and his witty and humorous personality. In this exclusive Knight Time Review interview, he discloses his previous jobs, his favorite memories of his past 27 years working here, and some of the secrets of the objects in his room, along with much more.
Mr. Deane began his career about 15 years later than most teachers. He grew up in Virginia and Albemarle county, but because of his mother's health, he had to join the workforce as soon as he graduated from high school. Before he continued his education, he worked a myriad of jobs: working on a farm, in construction and retail, driving delivery trucks and managing a few businesses. 
"I had an opportunity to continue my education when my mother passed," Mr. Deane said on how he decided to go to college. Before returning to college, Mr. Deane had been volunteering at C.H.S. and the Miller School working with kids on things that he was interested in, such as reenacting historical events and model building. "I met a really great history teacher when I was volunteering here at C.H.S. His name was Neale Black and he really inspired me to get into teaching history," he said, addressing what truly inspired him to teach.  
"I didn't have a traditional college experience because I went to college when I was 35," Mr. Deane said. He originally enrolled at Piedmont Virginia Community College and then transferred to the University of Virginia. At that time, he already had a wife and two sons. "My sons have been around as long as I've been teaching," he says. They were enrolled in Charlottesville City Schools for elementary school, but went to Albemarle schools for high school. Mr. Deane never had the chance to teach them, which he says is a regret of his. They now live in Seattle and Richmond, one as a cardiac care nurse, and the other as an architect. "I'm very proud of both of them, and I enjoy being their dad.They great young men." 
Mr. Deane began his first and only teaching job at Charlottesville High School in 1992. He has always taught history while at C.H.S. Currently, he teaches AP World History, which is primarily a class taken by sophomores. He has taught other history classes in the past. His favorite historical periods to teach are Ancient China, Ancient Greece, and the 20th century. 
Mr. Deane said the thing he enjoys most about teaching high schoolers is the enthusiasm that they bring to the classroom and everyday life. "Even if they're not enthusiastic about history, they're enthusiastic about something, and usually that translates into what we're learning in class," he said. His favorite objects in his classroom are not the many props and artifacts that he pulls out during his lectures, but are instead the projects displayed on the back table in his room that are made by his students. 
However, his greatest annoyance with students today was an immediate reaction of "Phones!" which can be anticipated from most teachers now. "I think phones are great to use for an activity or to look up something, but I'd say 90% of the time it's a distraction," he said on the matter. He wished that students could be less consumed by them. 
Through his almost 30 year career at C.H.S., Mr. Deane had accumulated a lot of fond memories at the school. He enjoyed the tradition of teachers dressing up for Halloween, which anyone can tell from his Frankenstien costume as this years outfit. He also liked going to football games, although his attendance was higher at the beginning of his career. In response to the football team's recent records, he said "It's all relative. It's almost impossible to have a winning or spectacular record every year. It's a learning process." One of his favorite memories was when he had a walk-on roll in the C.H.S. production of South Pacific. "It was a lot of fun. Basically I walked on, said two lines, and walked off. It was great."
Mr. Deane had seen and experienced a lot of C.H.S. history. He has witnessed many aspects of the school change over the years, from the generations of students that pass through his classroom to the programs and administration that have been removed and introduced at the school. He thought that the school had changed in mostly positive ways. He appraised primarily the programs that have been implemented at C.H.S., such as AVID. "I just think that's a tremendous improvement from where we were 30 years ago," he said. He also thought that there have been huge advancements in the unity, diversity, tolerance, and coexistence between different groups of students. "Students get along better, even in spite of recent events. There is less conflict between students of different groups, much less when I first came to C.H.S."
This year's AP World History students had a few questions for Mr. Deane, and he provided great answers. If Mr. Deane could only bring one thing to a deserted island, he would bring a knife. And in the case of an intruder in the classroom, the first thing he would do is protect his kids. 
About the Contributor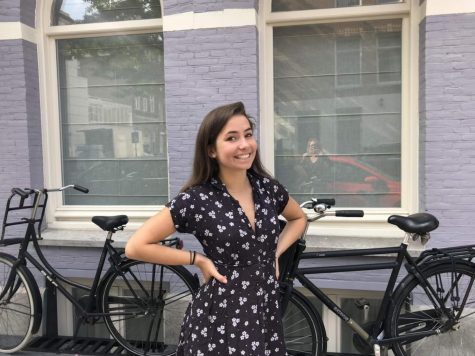 Kyri Antholis, Staff Writer
"Can somebody else come up with this for me?"