Lunch with Lucas: Pizza Edition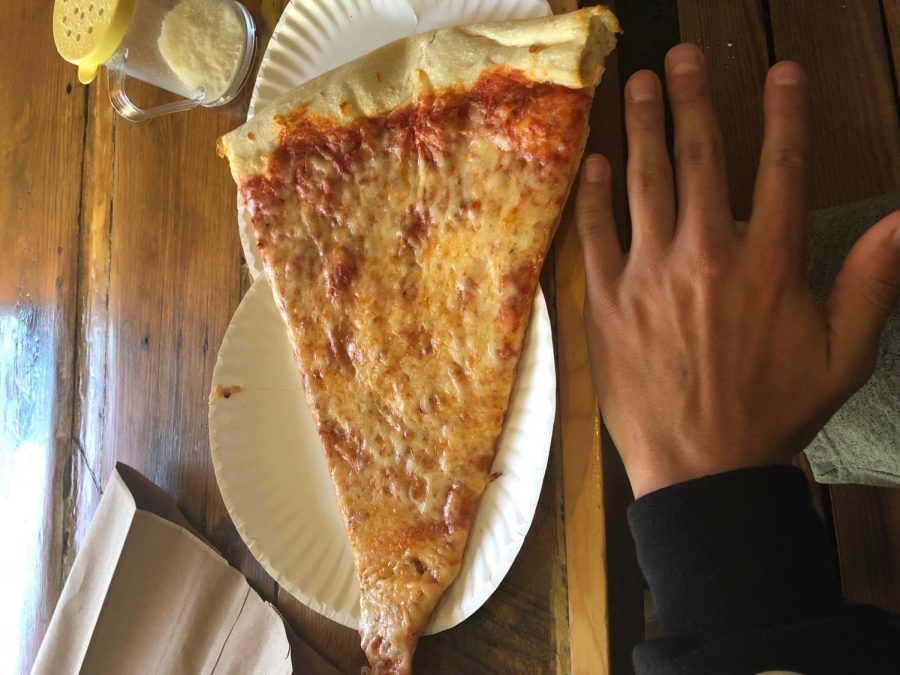 I'm back ladies and gentlemen, and I'm here with a review for local pizza restaurants. My journeys took me to various pizza restaurants around Charlottesville so I could taste and evaluate the quality of the slice. I reviewed things such as price, texture, taste, and presentation.  Many people have a preference for their pizza. Nico Pederson (11th) said "The crust has to be really good and the cheese can't be too hot." This is a very relevant and essential topic because most people enjoy pizza. 
The first place I went to was Benny deLuca's located on 913 W Main Street.  I walked into the establishment and ordered a slice of cheese pizza. The slice was 4 dollars.  When I receivedmy order, I was stunned by the size of the slice. It was unquestionably the largest single slice of pizza I had ever seen.  At first taste, I noticed a disproportionate amount of cheese on the pizza. Some people like more cheese on their pizza, Julia Cory (10th) says "I like my pizza cheesy with thick crust." The slice itself was thin but the bottom of the pizza was quite crunchy. The crust was very doughy and soft. 
After that, I took a trip downtown and headed over to Christian's Pizza. I had high expectations from this place because a whopping 65 percent of people that I surveyed responded saying this was their favorite pizza restaurant. From the outside the restaurant looked nice, with seats by the window and a long counter displaying their food. I also ordered the cheese pizza here. It was only 2 dollars which helps when you are working off the lifeguard budget. The pizza was rather thin and there wasn't a lot of crust. The crust is an important aspect of the pizza. Sofia Lee (10th) said "I like my crust fluffy, I don't like thin crust. "The pizza tasted good and had a nice crispy texture with every bite. The only negative part about it was that there was a little too much grease on the top.
The last place on my list was Fry Springs' station. The pizza was good here. It was a little wide and short. I don't think I was allowed to order a single slice of cheese pizza so I ordered from the chlidren's menu. I ordered a whole cheese pizza for $6.50. The pizza was pretty good but I thought there was too much cheese and when you took a bite out of the pizza, the cheese slid off. When I got to the crust, the crust disappointed me, it was a little bit too crunchy and dry. 
I hope that the information you have gained from my hard work and determination in discovering the truth behind Charlotessville's best pizza will allow you to go to the place that best fits your taste buds as well as your lifeguard salary!
About the Contributor
Lucas Simpson, Staff Writer
-Class 1 food analyzer and connoisseur.

-Fun guy

-Responsible student

- 5' 10"

-I like long walks on the beach and making friendship bracelets