WAHOOWA!
As many of you know, the University of Virginia recently won the NCAA National Championship in men's basketball. This was a huge turnaround win for the team, coming just one year after U.V.A.'s infamous loss to 16 seed U.M.B.C. in the first round of the 2018 tournament. This 2018 loss was historic for being the first time a number one seed had ever fallen to a 16 seed in the NCAA tournament, and cast the entire basketball program in a shadow of shame and doubt. The U.V.A. style, preached by head coach Tony Bennett, is one that emphasizes a slow, defense-heavy pace, with few possessions and little room for bravura highlights; this approach tends to lead to great success in the regular season, but their lack of recent success in the postseason has led many to doubt the style's ability to win championships.
However, this year was different. Despite losing to Florida State in the semifinal of the A.C.C. tournament, U.V.A.'s regular season success clinched the number one seed in the South region. They first played Gardner-Webb, another 16 seed, and defeated them 71-56, overcoming a worrisome deficit in the first half to clinch a safe victory. Next up, in the round of 32, was Oklahoma, who U.V.A. handily defeated by 12 to advance to the Sweet Sixteen. After conquering a bit of an offensive slump to squeak past Oregon by four, U.V.A. faced Purdue in the Elite Eight. This game was instantly hailed as an "instant classic", with Purdue point guard shooting astoundingly well from three-point range and Virginia small forward Mamadi Diakite releasing an incredible buzzer-beater to send the game into overtime. Virginia ended up winning by five and advancing to their first Final Four since 1984.
In yet another thrilling match-up, Virginia played Auburn in the Final Four in an attempt to reach the National Championship game. The game was back-and-forth, with U.V.A. trailing by three at halftime, but rebounding offensively to claim a 10-point lead over Auburn. Auburn then made a comeback of their own, going on a 14-point run and leading by four. Virginia shooting guard Kyle Guy then hit a three-pointer to turn it into a one-point game, with Auburn point guard Jared Harper then making one of his two free throws, making it a two-point game. After the refs missed a foul and double-dribble from both Auburn and Virginia, respectively, Auburn fouled Virginia with 1.5 seconds left. Virginia point guard Ty Jerome then passed the ball to Kyle Guy, who was fouled on a missed three-pointer as the buzzer expired and made all three free throws. Those free throws clinched the game, and gave Virginia their first ticket to a National Championship game.
U.V.A. faced fellow defensive powerhouse Texas Tech in the title game, stifling them offensively for the first portion of the game before Texas Tech went on a run from three-point range to gain a lead over the Cavaliers, before Virginia came back to secure a three-point lead at halftime. Virginia small forward De'Andre Hunter was offensively explosive in the second half, putting up 27 points and hitting a clutch three-pointer towards the end of regulation to send the game into overtime, where U.V.A. handily won by eight points, completing their comeback run after one of the most infamous losses in college basketball history.
Sophomore Margaret Neale, who attended the Final Four with her family, described the experience as "amazing" and said she was "crying" when that final buzzer sounded and U.V.A. sealed the deal. Health/P.E. teacher and former basketball coach Matthew Wilson described Guy's "three consecutively huge free throws" at the end of the Auburn game as his favorite moment of the postseason, narrowly beating out Diakite's thrilling buzzer-beater at the end of the Purdue game and Hunter's clutch three-pointer that sent U.V.A. into overtime during the National Championship game. Overall, it was a thrilling postseason for the Cavaliers and their fans, and they were ultimately rewarded with the greatest prize of all.
About the Writer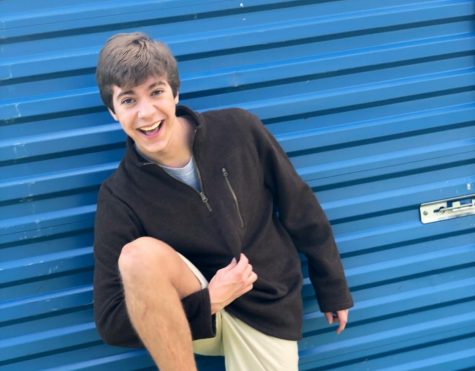 Charles Burns, Co-Editor-in-Chief