A Unified Reaction
Community Response to Threat Targeting Charlottesville Public Schools
Screenshots, messages of curiosity and concern, and announcements from the school division and the police department were being shared rapidly between community members on the night of Wednesday, March 20th, about an online threat targeting students of color at Charlottesville High School. Following the initial report of the threat that evening, citizens wondered not only about the credibility of the threat but also what this meant for the coming days of school, the safety of the community, and the city of Charlottesville.
The threat was posted on the anonymous website 4chan Wednesday afternoon, and was reported to Charlottesville authorities soon after. The threat contained racist language against people of color and immigrants, and called for an "ethnic cleansing" at Charlottesville High School the following day.
"I initially felt fear for the safety of students," said C.H.S. principal Dr. Irizarry. "But I didn't have a lot of time to be afraid in my position as principal, because we had to be reactive, and move on to what we needed to do next to keep everyone safe. What's the plan? Is it real or not? We began immediately working with the divisions and the police department."
The source of the threat was not discoverable for multiple days, which lead to the closing of all nine Charlottesville City Schools for that following Thursday and Friday. This caused many in the community to begin to realize how seriously the school and the authorities were taking the threat, and how much precaution and precision was being put into investigating the source.
"When I found out that school was closed due to the threat, I was initially worried, but that worry soon turned to relative comfort. Given the fact that the school system was shut down, I took this as the school system not knowing the origin of the threat. However, once I realized that we would only go back to school once everyone knew the situation was neutralized and our safety was ensured, any fears or anxious feelings I had were removed," said Graham Lenert (9).
"We need to feel safe while we're at school. I would rather be out of school for two days and be safe, than in school and maybe have something happen, or feel uncertain and fearful of something happening," said C.H.S. teacher Pam Brown.
In the following days, there was a lot of speculation about what the authorities were doing to discover where the threat came from. Students, parents, and administrators all kept up with the news, waiting to hear any updates on the situation.
Many community members took action. Lunch was distributed at community centers on the days school were closed for students whose main food source is school provided. A multitude of C.C.S. teachers walked through the Charlottesville neighborhoods on Friday to visit students and bring school to them, in a way.
"We wanted to get to the affected communities and do it all together, in a way that shows students unity. We wanted to come to them, and demonstrate that we are one community and school, and that we as teachers care," said Dr. I, who organized the walk with the help of faculty at Walker and Buford.  
"We wanted students to see that we're better than this, and that we're not going to let hate do this to us. We had people walking from all the City schools, just to show the kids what we're here and that we miss them," said Ms. Brown.
The source of the threat was eventually tracked by the FBI and Charlottesville authorities, and an arrest was made on the morning of Friday, March 22nd. The suspect was a 17 year old male, who attended Albemarle county schools.
"I had a feeling it wasn't a Charlottesville kid," said Ms. Brown. "When stuff like this happens, my first thought is that its not somebody who knows us and knows anything about us, like the stuff in August. I'm not saying there aren't these problems in Charlottesville, and this definitely brings it to light, which is necessary and the only way we can move forward. But usually these big things have been from other people who don't fully understand the community."
The general atmosphere at the school after students returned on Monday morning was filled with relief and an attempt at normalcy. The faculty's main goal was to make sure that students felt safe in the environment again.
"For us it was about being as normal as possible and showing students that we're ok, because if we're ok, then the students pick up on that and feel the same," said Ms. Brown.
"I think we were all a little relieved, but when you think about the days that we had off, it was for reasons that shouldn't have been. It was reassuring to know that we took the time to know who posted the threat and ensure our safety. But that's not to say it couldn't still happen and that there aren't other people out there who want to do the same thing. That's really something we have to change," said Jakia Maupin (9).
Upon returning to school, people also felt the need to continue the conversation of what had happened the week before. The situation was somewhat depressurized by the fact that the threat did not actually come from someone within the school system, and was therefore not likely to have been followed through with. However, the societal issues that the threat was rooted in, and that were brought up because of the threat, are something the community feels the need to focus on moving forward. The Black Student Union at C.H.S. organized a student walkout that many people participated in on the Monday after schools were reopened.
"The purpose of the walkout was to bring solidarity to the student body, to bring attention to what had happened, and to show that we are undivided in that something like this should not happen again," said Jakia Maupin (9). "All kinds of people participated, not only to show unity but also to show personal problems. My personal purpose was to be a part of this and feel heard. Being black, I felt the need to yell and express the anger that I felt from the threat, and the walkout allowed me that."
Beginning with the tragic events of August, 2017, the community of Charlottesville has experienced many reminders of the deeply embedded issues of racial disparities and systemic barriers in both our city's past and present.
"With everything that's happened in Charlottesville, we've all tried to make things better, in a way, as a community. To then have something like [the threat] happen, once again the spotlight is on Charlottesville," said Ms. Brown. "Charlottesville hasn't had a chance to heal because the world hasn't let us heal. Everytime we try and get close, another thing happens that brings us into the spotlight, brings up issues in the community and takes us back a few steps."
However, the community also realizes that every time these issues in our society are brought up, it has created a dialogue and conversation that has been necessary and crucial in our city for a very long time.
"As horrible as these things are, it's pulled off the scab on a lot of the open wounds in Charlottesville. On top of that, there are things that still need to be addressed that have never been touched before. We're seeing the conversations begun everywhere, and that people are no longer afraid to have those conversations, especially in the youth. That's what's really important," said Ms. Brown.
"This situation showed me, once again, the resilience of the community, especially since August. Everytime trauma happens in this city, and it's happened a lot, it allows for the community to come together," said Dr. I. "These things aren't preventable, so the most important thing to do is to own these issues as a city and work to change them together. We can't deny the existence of these issues, and we can't address them divided."
About the Writer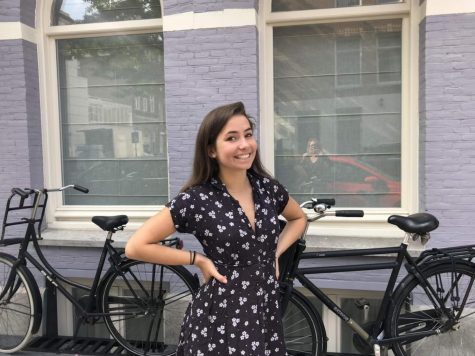 Kyri Antholis, Staff Writer
"Can somebody else come up with this for me?"