C.H.S. Mock Election
Congratulations are in order for Jack Montana, your 2018-19 Mock Election winner and congressional representative for the 5th District of Virginia! Narrowly surpassing Democrat Reggie Randle in the race, this marks the first time a Bald Eagle Party candidate has ever been elected for government office. Through unique policy angles and endearing charisma, the "Man of the People" came out on top to cap off a highly competitive and widely publicized election season.
Underclassmen at C.H.S. might be wondering what the Mock Election is anyway. Who are Jack Montana, Reggie Randle and Bobby and Susan Barnes? What the heck is the Bald Eagle Party? Why were these people posting flyers all over the walls and blowing up my Instagram feed? Should I care?
Well, you should care! And here you will find the answers to all your questions about the Mock Election, so that you may be become a well informed voter of Charlottesville High School.
First, what is the Mock Election? It is an annual student election organized by Charlottesville High School's AP US Government classes. Several nominees chosen from the senior student body must campaign against each other for a United States Government position, which changes year to year. Students have run for President, Virginia Senator, and Virginia Governor in the past, while this year they ran for the House of Representatives seat for Virginia's 5th District.
These candidates assemble large, dynamic campaign teams in order to build up political clout over the course of the election cycle. In addition, there are nonpartisan media groups that spill all the Mock Election tea, providing news and hot takes to the rest of the school throughout the fall.
Who started the Mock Election and how long has it been running? AP Government teacher Allen K. Robinson was the one who brought the Mock Election to C.H.S. after previously introducing it in his previous teaching job at Tandem Friends School in 2006. He says he was inspired by his own campaign experience, having worked on Governor Mark Warner's gubernatorial election campaign in 2001. The Mock Election has become a longer and more elaborate process every year since it was introduced to C.H.S.
"My hope from the Mock Election is that the students involved gain a broader knowledge of the election process. I also hope that other students in the school who are aware of it and attend the debates start to develop more of an understanding as well," says Mr. Robinson.
So who were the candidates this year? First was Reggie Randle, the Democratic candidate, whose platform stated that "gun control, clean, renewable energy, and creating jobs should be a top priority of all of our citizens." Despite his expressed support for the environment, he was mercilessly hounded throughout his campaign by media sources attacking him with claims of his mistreatment of penguins.
Representing the Republican party was Susan Barnes, who claimed the role as the party nominee following the tragic passing of her husband Bobby Barnes. Bobby was viciously attacked and killed by wild wolves while aiding the victims of Hurricane Michael in North Carolina, so his widow bravely filled his shoes.
And finally, our third party candidate this year and ultimate victor in the Mock Election was Jack Montana, representing the Bald Eagle Party. A self proclaimed "Man of the People", this politician holds an "America first" ideology. Montana has a unique perspective on how American politics should operate, and is recognized for his innovative policy on gun control, which stipulates that every citizen should be supplied with two firearms, losing one for every crime committed.
The three candidates duked it out in the official Mock Election Debate on December 3rd. Mediated by Mr. Robinson, the debate saw the nominees attempting to put their best face forward while fielding tough questions from both the audience and the two Mock Election news outlets present, Wokeday Updates and Mox News. It was intense and dramatic, a debate for the ages, with no candidate ultimately leaving satisfied about their chances in the final polls.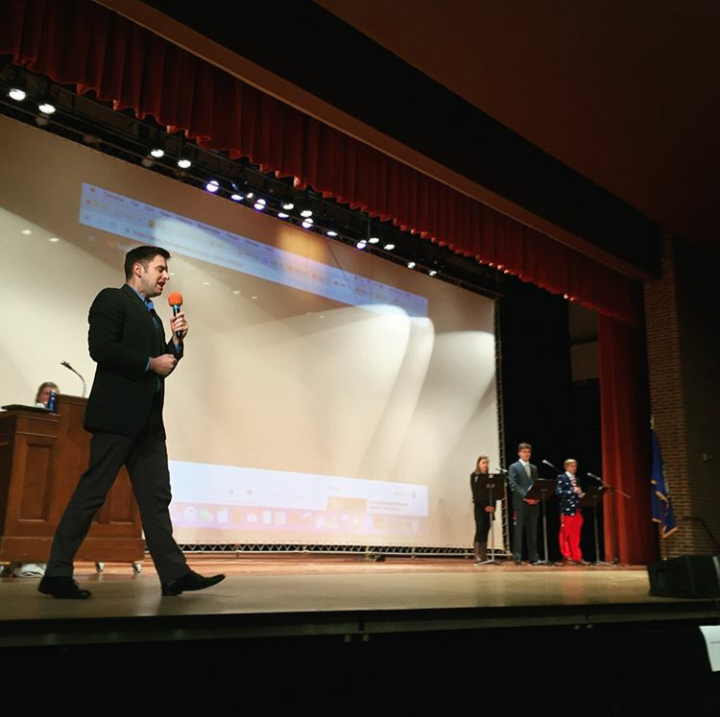 However, following a final count on December 18th, the victor was proven to be your very own Jack Montana! If you see the new 5th District Representative around the school, be sure to congratulate him for his impressive win. He will receive you as a true man of the people would, sincerely and graciously, with a sense of leadership and authority.
So, this concludes an exhilarating fall election cycle rife with enigmatic candidates, cutthroat campaigning, and shocking controversy. Those involved in the Mock Election have left with great memories and a greater understanding of the electoral process. Rising seniors at C.H.S. have no idea what they will be getting themselves into next year!