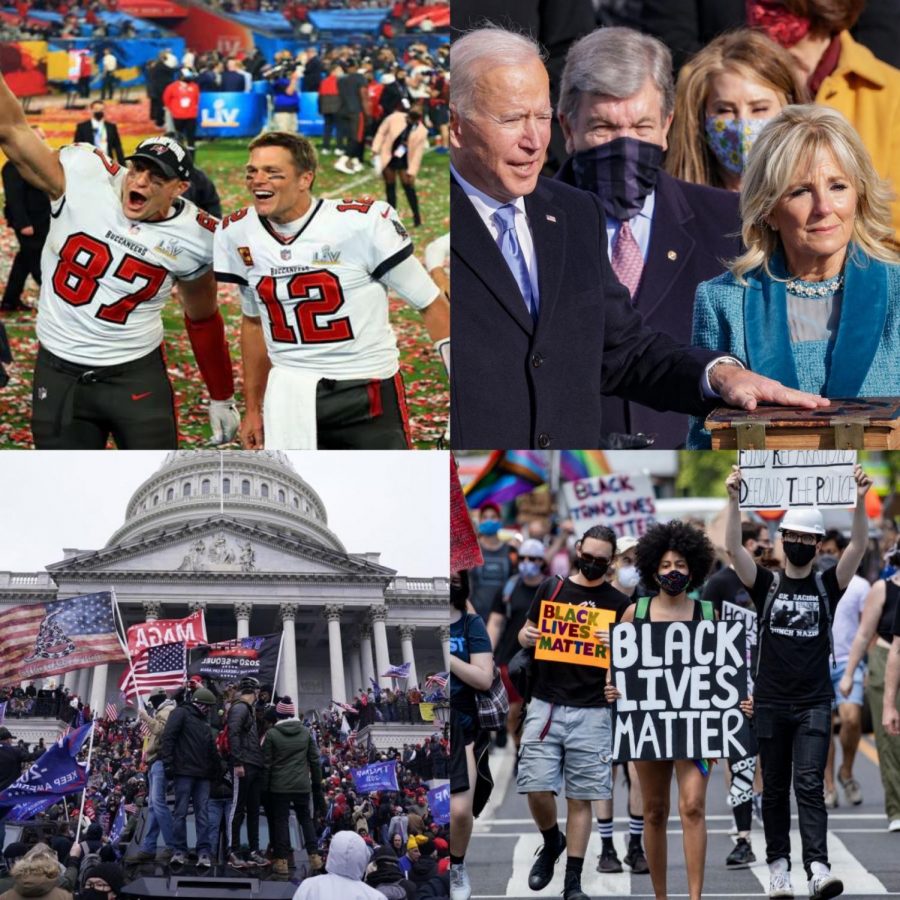 Year in Review: "Depressing but fun"
As we arrive upon the date marking one year of the Coronavirus pandemic when schools sent students home and everyone went into lockdown, we take a look at everything that has happened in the past 12 months: the good, the bad, and all the crazy in between. 
March 2020
March 13th: A day to remember. As we entered lockdown, everyone began the early days of quarantine. This included so much Netflix and TikTok, daily family walks as the spring weather set in, celebrating birthdays in car parades, trying at home workouts, and acquiring new hobbies. On a realer note, the stock market crashed, unemployment rates went up, and grocery stores saw runs on toilet paper and other essential items as the supply chain failed. Everyone fretted over Tom Hanks as one of the first major American celebrities to report having Covid, but John Krasinski kept our hopes up with his YouTube show "Some Good News."
April 2020
As April came around, we realized Quarantine wasn't just a two week break from school. People started adapting to optional school as the online AP exams came around (RIP to submitting AP scores to colleges), Instagram saw a rise in story trends that some found insufferable, and everyone became obsessed with "Tiger King" and, more specifically, Joe Exotic and Carol Baskin. But the reality of the Coronavirus continued to set in as people lost loved ones and icons, such as the singer John Prine. Also the Pentagon confirmed that UFOs do exist, but no one really seemed to care.    
May 2020
It was with the month of May that we began to see 2020 as a year that was like no other. As teenagers took up an obsession with "Outer Banks" and Elon Musk and Grimes welcomed their son X AE A-XII, murder hornets also showed up! We were just embracing the weird. But it was also with the month of May that the deaths of Ahmaud Abury and George Floyd made national news and unprecedented, necessary conversations about race and police brutality were introduced.   
June 2020
June is a month that will go down in history. What began with video footage going viral of George Floyd's death, national protests arose around the country, calling for justice and action against police brutality, systemic racism, and racial inequalities across America. These protests spread internationally, and have continued since then. This period of learning, conversing, and action has created a new standard for how we as American citizens understand our history and our current society. Oh, also J.K. Rowling is transphobic. 
July 2020
Protests and calls to address systemic racism continued throughout the summer and especially during the month of July. "Defund the Police" was introduced, a concept which got a lot of press over its slogan, which some found extreme, others misleading, and others deemed all too necessary. July had some other news too: Hamilton the Musical was released on Disney+, the "everything is cake trend" seriously confused some people, and Ghisellen Maxwell, Jeffery Epstien's girlfriend, was arrested after the release of the infamous Netflix series "Jeffery Epstien: Filthy Rich."
August 2020 
As summer came to end, most had adapted to the norm of life in Covid, taking advantage of the summer weather and outdoor activities that allowed for safety precautions. But 2020 continued to generate headlines: the world lost Chadwick Boseman, also known as T'Challa; Taylor Swift absolutely popped off with her surprise album "Folklore"; there was also a massive explosion in Beirut that created a huge humanitarian crisis; and Kamala Harris made history as Joe Biden's nominee for vice president. 
September 2020
With September came the beginning of online school, introducing us to dreaded breakout rooms, Canvas frustrations, and Nearpod and Jamboards. But students also found an escape with the video game Among Us which became an obsession. September also saw some devastation, with the loss of the Notorious RBG and forest fires turning the whole West Coast orange. Right before the beginning of the presidential debates (which confirmed the necessity of a mute button), the New York Times also released a report on President Trump's tax returns, which showed that he paid very little in federal income taxes and that he was currently in a lot of debt. America also hit 200,000 Covid-related deaths, proving the failure of the country's response to the virus. 
October 2020
With the approach of the election, citizens and candidates alike geared up to mobilize voters to go to the polls and focus on the important issues on the ballot. But during this election season, President Donald Trump got Covid and exposed a lot of people within his administration. He was hospitalized for a few days but came out claiming he felt better than ever, which frustrated many who felt he was circulating more false information about the virus when he had received treatment that was rare for most Americans. The world also lost another icon, Eddie Van Halen, from the 80's band, Van Halen.  
November 2020 
November was a high-stress month as we experienced an election like no other. The results of the election were delayed almost a week due to mail in ballots and a lot of inaccurate reporting surrounding the voting process and outcomes. In the end, Pennsylvania got called for Joe Biden, solidifying the votes he needed, as well as swing states Georgia and Arizona, and Kamala Harris made history as the first Black, Asian-American, and female Vice President. In other news that almost got overlooked, beloved Jeopardy host Alex Trebek died, Clare Crawley kinda destroyed The Bachelorette, Trisha Paytas attacked the D'amelios, and Taylor Swift popped off again with another surprise album. 
December 2020
With December finally rolling around, we reflected on 2020, wondering where the time went and having more hope for the coming year, especially as vaccines got approved in the U.S. by the FDA. However, Trump continued to dispute the results of the election, and many mourned after a bombing in Nashville on Christmas morning. 
January 2021
2021 made its entrance, and it was an impressive one. The year began with Kim and Kanye getting a divorce… and also a mob storming the Capitol building during the electoral vote count, which had casualties and led Trump to his second impeachment and acquittal. However, democracy prevailed and Joe Biden was inaugurated on January 20th, with Lady Gaga and Michelle Obama serving looks, Amanda Gorman spitting bars, and Bernie Sanders becoming an iconic meme. 
February 2021
In the final month before the one-year anniversary of the world changing from Covid, the vaccine began its widespread rollout. Biden hopes to have almost everyone vaccinated as early as May but as late as the fall, providing a light at the end of the tunnel. That doesn't mean that the virus is over though: there were national spikes in cases as people ignored safety precautions during the cold weather, and basically everybody at UVA got Covid when Greek life returned. People who watched the New York Times documentary became really concerned about Britney Spears; Tom Brady proved that he is in fact the GOAT after bringing the Buccaneers to victory over the Chiefs in the Superbowl; Taylor Swift popped off yet AGAIN when she announced that she was rerecording her first four albums that she doesn't actually own; and the entire Bachelor franchise imploded when allegations of racism were made about a frontrunner from the season with the first-ever Black Bachelor leading to Chris Harrison stepping down.