Headquarters (1967) Review // Recommendation
The Monkees finally have creative freedom over their work. How do they do in Headquarters? Let's see. Due to the flow of this album, I'm going to be reviewing the tracks in the order they appear on the album.
The album starts with "You Told Me". I like how the songs starts with the band members shouting "One, two, three!" It's silly and lighthearted, but it doesn't detract from any of the more serious elements of the album. This is especially amusing as this parodies the opening of the Beatles album, Revolver, which starts the same way. Knowing that makes it even more clear that this is not establishing itself as something that should be taken too seriously. The previous two albums appeared to be asking for more respect than they earned. This track, written by band member, Michael Nesmith, seems to comment on the band not having control. According to some, they were initially promised more freedoms than they got, so lines like, "All these things you said you said sincerely", seem to refer to that. The track also discusses someone wanting to break out of their situation. This is complemented by good singing and guitar playing by Nesmith.
"I'll Spend My Life With You" is the second track, sung by Micky Dolenz. This one discusses the singer saying he'll spend his life with a good girl. He's happy to go with someone reasonable. The singer indirectly says he's getting smarter and he used to be more foolish. I like that the song's not stating things directly. This song is very sincere and honest. Its style is different from the previous track. In fact, this album doesn't have a ton of repeating styles. "You Told Me" was a country inspired faux-parody. This one is a quiet, subtle piece about the singer's emotions. The simplistic instruments work well with the lyrics and good singing.
"Forget That Girl" is the third track, sung by Davy Jones. This one is very pop-styled, but the subtle vocals and clever use of instruments make it sound more complex than it is. The guitar and the maracas amplify the song. Davy's vocals are very good. It's weird listening to the older albums with uninspired vocals, because in Headquarters and later, they're often the best part. Next is a silly rag song called "Band 6". This album is going for its own aesthetic. "Band 6" is silly like in past albums, but it has an intelligent spirit. It seems to be parodying outtake tracks by having a sloppy quality with the instruments. The drumming is overly intense, the music stops, a voice says "I think you got it now, Micky [Dolenz, the drummer]". This one is a fun interlude that once again shows the heart of the band. It leads very well into the next track.
We're back to Nesmith for "You Just May Be The One". Its vocals are a bit too simplistic, but the piece does a good job of painting the singer's interest in a girl that they clearly care about. This track is one of the more serious on the album. It doesn't come off as parody or anything of that manner. It's a diverse song that dances around a lot with its instruments. The next song, "Shades of Gray" is beautiful. It speaks of breaking into the world and learning of life. The singers learn that things are more complex. Davy Jones' vocals are absolutely superb. They excellently show the breaking of childlike innocence. Peter Tork is also very good, but has a little bit of wood in his voice. The instruments paint the tone perfectly. They emphasize the idea of growing up and experiencing the realism of life. Some lyrics are overly dramatic and over stylized, but the lyrics overall work. A particularly great line is, "It was easy then to tell truth from lies… The foolish from the wise." A particularly moderate line is, "Life was such a simple game, A child could play." Davy Jones does not sound good when saying the word "child".
"I Can't Get Her Off My Mind" is another Jones piece. It's a simple rag. It sounds like a saloon song, just like Band 6. A piano of all things is the song's dominant instrument. The singing is really good, though the lyrics are not anything special. They're not bad, but it's just Jones singing about how he can't get a girl off his mind. They're so boring. The piano overpowers the song, which is not a good quality, but it pulls attention away from the lyrics. Overall, the track is alright.
"For Pete's Sake" has often polarized me. Some parts of it are quite good, others are not. Lines like "Love is understanding" are both good and bad to me. It summarizes the song, but it's so bland, but the blandness works, but it's… Is it good because it's weird, or is that a bad thing? The instruments lack much detail and life, but that works, but I don't really know how. This song discusses how love helps people. The simple premise isn't bad, but the song's paper thin… but that kind of works. I also flip flop on the ending. "We gotta be free!" is yelled a few times. The line speaks to the concept of breaking out of creative constraints and it's sung well, but it's so off putting and it doesn't mean anything in the song. There are things that are genuinely good. Micky's vocals are what fans love. He's really good. "And what we have to be is free" is a particularly well sung line. He's good at vocal complexities, not necessarily instrument complexities.
"Mr. Webster" is an odd one. The song tells a story about a Mr. Webster. The story isn't interesting and the words don't sound good. The vocals are once again good and the instruments are well played. They have a good energy and pace. It doesn't come off like a Monkees song, it's more like a Beatles song, though "Mr. Webster" has a harmony by Micky and Davy. "Sunny Girlfriend" is very much a Michael Nesmith song. It's about a girl and it's country inspired (more so than the others). You can tell that the singer loves this girl, based on what he says and how. The lyrics once again aren't particularly good, but not bad. The high energy, lightly played instruments give the feeling of a sunny day. It's the kind of instrumentation you'd hear at a park.
"Zilch" is another interlude. It's a fun break from the more standard songs. It shows the band's fun spirit and life. It doesn't detract from the album's aesthetic or tone and it works well if you just listen to it on its own. The song has a trippy, unnatural feel, which adds to the odd sound of the piece. It sounds cool. The band whispering "Zilch" at the end adds to the trippy feeling. This one's pretty fun. "No Time" has the highest intensity of all the tracks. It's very quick paced and exciting. Micky is shouting of how he has no time for a girl. He has real energy and spirit in his voice, but he's also out of energy for the girl. It's a good balance. The song was written by all four Monkees. This song seems like a reference to their real life situation. They got no time for the system stopping them from making their own music. Lines like, "You don't seem to make no sense", are particular examples. The writing feels like a group effort, which helps bring the piece to life. The line, "Nevermind the furthermore, the plea is self defense", is so good. It's like the band can't contain their emotions and those great lines pop out.
"Early Morning Blues And Greens" seems like filler, but it's still good. It doesn't feel wholly like filler. It's a low energy, very basic Davy song. This has one of the best uses of low energy instruments I've heard so far in the Monkees catalog. They're mostly quiet, but they very well compliment the song's tone and Davy's vocals, which are quite good. Davy communicates a lot in his vocals. He's tired, he's waking up, he's young, he's old. The vocals have a detail and character that is very expressive. A particularly good line is "I will drink my coffee slow". It's very well sung.
This album continues to best itself, that has never been truer than with "Randy Scouse Git". The track starts with a powerful and impressioning use of the timpani. There's buckets of character in Micky's voice. He seems exceptionally passionate about the matter. The lyrics are filled with metaphors. The lyrics are very interesting and descriptive. The singer wants more from the "wonderful lady". This song summarizes all the album's styles and concepts. There's quieter moments, crazy moments, sincere moments, and in between, though Micky never gets too quiet. There's a lot going on in the kind of way Micky's singing and the instruments are being played and it's blended so well. A lot's going on. After some loud, crazy drums, it all goes quiet and you hear the drumsticks hit the ground. Just like at the beginning, the timpani is played and it sounds exceptional. The piano solo around the middle is so good, as well. This song exemplifies the writing prowess of Micky Dolenz and his abilities as a musician.
The band really seems to care about this album. It's finally a chance to prove themselves as real musicians. They, for the most part, play their own instruments. There's themes to this album, unlike the last two. Headquarters is about growing up and learning new things. It's about being a crazy, young guy. It's about girls. There's a solid flow from one track to the next. They fit together very well. Few tracks are like another and when they are, they're not next to each other. The Monkees will push themselves even further after this…
About the Contributors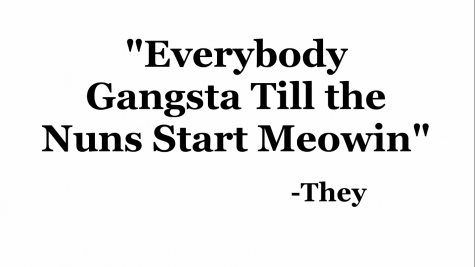 J. L. Ilai, Contributing Writer
What else can I say but... you're welcome.

Read more reviews here: http://thefilmediary.wordpress.com/