The Future of Skiing: Snowy or Sunny?
Anyone who has been to Wintergreen Ski resort in 2020 knows the conditions have been below average this year. A lack of fresh snow has limited the number of slopes that are open, combined with large ice patches results in an unfulfilling experience. "I mean it's much worse, less snow and none of the slopes are open. It makes me angry because last year you could go practically every weekend, but now you have to wait for good conditions which are rare." said Sohl Park, a junior. Compared to past years it seems conditions have progressively getting more uncertain each year. This is a somewhat reflective trend of ski resorts around the country. These unpredictable conditions are largely the cause of climate change. Noah Boswinkel says "I am very concerned about ski resorts that rely on natural snow. Many places out west are not equipped to cover every slope with man made snow." Man made snow also isn't exactly a replacement for natural snow, it doesn't have the same texture and is much more icy. Conversely to what you might think, climate change can be good and bad for ski resorts, depending upon their location. Higher altitude and more northern resorts will actually see more snow, while lower altitude and southern ski resorts like Wintergreen will progressively see their seasons get shorter each year. 
This means in order to survive ski resorts across America must find new income streams to offset the cost of shorter seasons. Parent companies of large ski resorts such as Vail Resorts (Vail) and Alterra Mountain Co. (Aspen) have started diversifying the location of their resorts. Both companies now own upwards of 15 resorts each, spread out in areas from Australia, Canada, New York, California and Colorado. This move of buying up more ski resorts is an effort to still make money with the unpredictable snow seasons. The parent companies did this to start selling season passes that access all of the resorts that they own. This is beneficial to everyone. You can now buy a season pass that access 15 resorts for only a little more than the cost of one resort season pass. Although this is less cost effective for the parent company it eliminates risk, because with global warming day passes are dependent upon if there is good snow. The risk is now shared equally among the ski resort and skier, with yearly snow variation getting more unpredictable.
While big ski resorts are safe for the relative future, smaller private resorts like Wintergreen now have even more challenges to overcome, being competing with massive companies. The future of small resorts doesn't look great, and as time goes on things won't get better for them. As a consumer this also isn't good. Most people will have to travel farther distances to reach a ski resort and also pay higher prices due to less competition. When asked what he would do if Wintergreens current conditions got any worse, Sam Ewing said: "I would go to snowshoe, but it would be more inconvenient to drive 3x farther so I would have to ski less often." But there is hope for places like Wintergreen. As the season progresses more slopes should open and there will be more snow days to look forward to. But in the future all skiers might see a change in where, and how often they are able to hit the slopes.
About the Contributor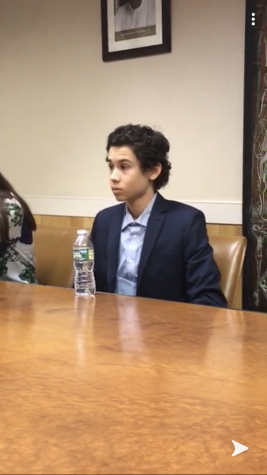 Tomas Russo, Co-Business Manager