Nationals Claim 2019 World Series Title
Hang on for a minute...we're trying to find some more stories you might like.
The Washington Nationals Started the season with lots of unanswered questions, after losing Bryce Harper to free agency but picking up Patrick Corbin the team had lots to prove. Things were looking down only a couple months in, being 12 games under .500 General Manager Mike Rizzo was under pressure by the public to fire head coach David Martinez. Charlottesville High School Student, Will Rauss says he agreed with the public media on how they should fire him. "Martinez had his chance and showed no sign of improvement." But the team pulled through and became one of the hottest teams, winning 30 out of their next 40. This was led by excellent pitching from Strasburg, Scherzer and Sean Doolittle. Anthony Rendon also helped by batting .328 and was named an all-star.  "Rendon was a key part of the team," student Evan Baumgartner said. "I don't know if we could have won without him, I hope resigns this year." Heading into the Postseason the Nationals were hot, the goal being to carry their momentum for as long as possible. After pulling out a solid win against the Milwaukee Brewers the Nationals had to face the defending National League Champions, the Los Angeles Dodgers. They narrowly beat them in 5 games, facing elimination twice. Then played the St. Louis Cardinals who were easily handled in a sweep. Going into the World Series there was speculation that having 5 or 6 days in between games would kill their momentum. But the Nationals Proved everyone wrong and took the series in 7 games, all road wins. Max Scherzer pitched a game 7 gem in the biggest game of his life. Looking forward onto next year, the Nationals have their work cut out for them. They need to re-sign Stephen Strausburg and Anthony Rendon. Strasburg has already opted out of his current contract, so it will be up to the Nationals to outbid other teams to keep him in Washington. Grady Gilmore gave his thoughts on if the nationals can repeat: "No way the Nats repeat, the Yankees are stealing Stephen Strasburg from them and Anthony Rendon is leaving. I believe the Nats will make it to the World Series where they will get absolutely destroyed by the Great New York Yankees who will win their 28th title, the most of any team by the way. The Nationals simply cannot compete with the yanks and therefore will not repeat." Grady Gilmore is very upset that the New York Yankees did not make the World Series, and how they have 0 World Series appearances in this decade. Congratulations to the Washington Nationals on winning the 2019 World Series.
About the Contributors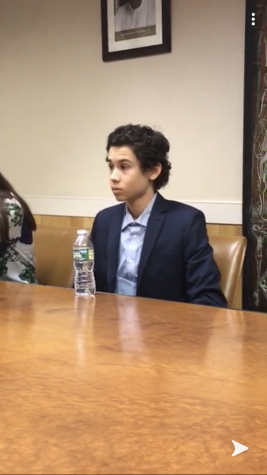 Tomas Russo, Co-Business Manager