Every year at Charlottesville High School's Diversity Assembly, a great deal of effort goes into creating a moving, impactful presentation. Students write stirring pieces of poetry and prose, sharing both personal and universal stories. Music and songs are performed with the desire to establish a sense of unity throughout the school. People produce high quality videos, showcase traditional dances, and deliver impassioned speeches in order to raise awareness for their causes.
Yet, as conceptually well intentioned as the Diversity Assembly is, its positive effect never fully reaches the audience. Because no matter how powerful a presentation piece is, everyone's attention is immediately lost at the first technical difficulty, a problem that seemingly plagues every assembly C.H.S. puts on.
Aware of this issue, Dr. Eric Irizarry is currently working on a solution for it. The Principal says that "the technology will work, but it needs to be put through its paces beforehand", meaning that in the future, the school would prepare the technical aspects of assemblies further in advance. He added that there were plans to upgrade the computers in Performing Arts Center to run more efficiently on wireless.
The school administration and PAC crew cannot be blamed alone for the inefficacy of these assemblies, however. The problem additionally lies in the audience itself. The plain and simple truth is that a significant portion of students in the PAC are either bored, tired, hungry, or just more interested in their devices. Now this not a jab at all C.H.S. students, because many are actually invested in the presentation. But an unfortunate amount out there simply aren't getting the impact the presenters hoped they would receive.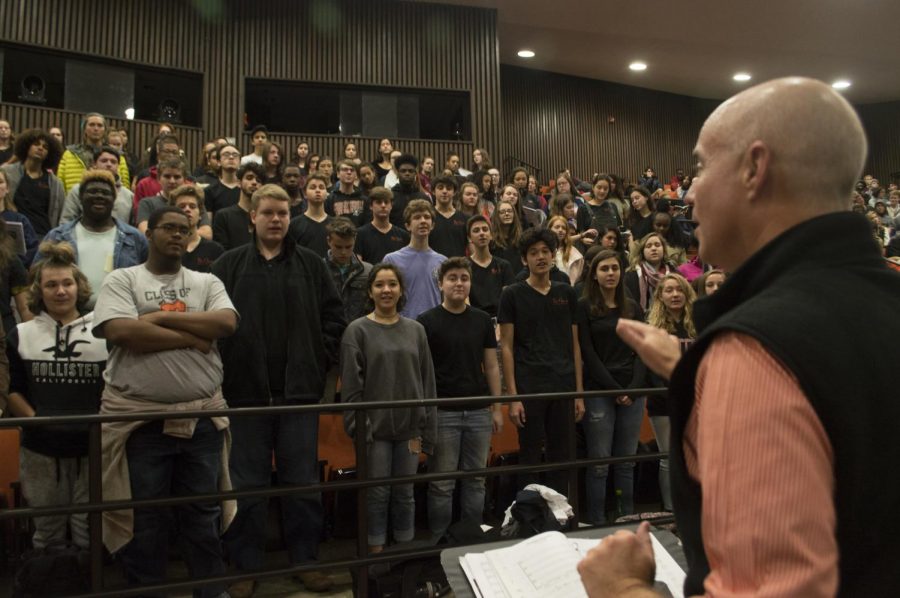 A question was brought up in one of my classes following the Diversity Assembly: "Should this event be made optional, so that only those who really cared about it would attend?" Perhaps it could even take place in the evening, after school hours? There certainly would be merits to this; the audience would be much more engaged and supportive, with nobody being there against their will.
I posed this question to several teachers, all of whom surprisingly rejected the idea. ESL teacher and assembly organizer Ms. Vasquez said that, "Even if the students aren't paying attention, they're still going to have a small seed implanted in their mind from going to this assembly, and they may subconsciously start caring more about these matters. If they weren't there at all, that would defeat the whole point of the event."
The purpose of this assembly is to celebrate one of Charlottesville High School's greatest qualities, its diversity. Dr. Irizarry articulated this point quite eloquently while referring to this year's theme of untold stories.
"We have the diversity of a major city in a small town. And with the influence we have from different cultures, that's not only an important thing to recognize and celebrate, but also to bring awareness of these stories to people who have never experienced what these refugees have gone through. And those stories need to be told, because in high school, you need to understand those issues. There's a difference between seeing these stories on the news and actually sitting next to someone telling you what they've been through. The fact that these students who went through trauma and turmoil where they used to live, are now thriving and doing well here at C.H.S…. that's a powerful story."
With this in mind, it's time that we paid a little more attention to these assemblies. Surely you're capable of putting your life on hold for an only an hour and a half? Many of the students telling these stories have risked their lives by fleeing their former countries and migrating to the United States. The least we could do for them is risk our Snapchat streaks.
Here's your next chance. February 13th. Charlottesville High School Black History Assembly. I'll be there. No, like I'll actually be there. Present, attentive, and engaged. Will you?